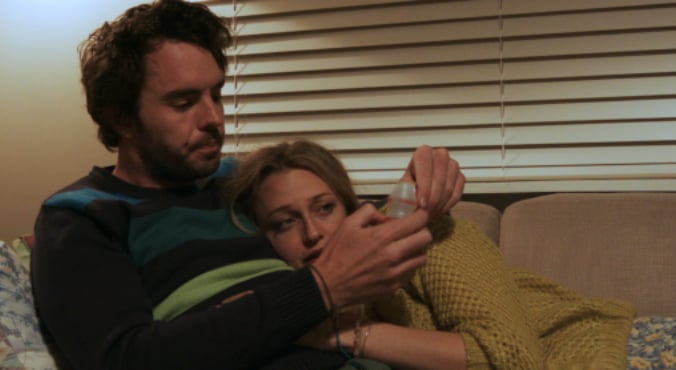 Image via That Sugar Film
We already knew that low-fat 'healthy' foods such as muesli bars, yoghurt and cereal contain a shit-ton of hidden sugar, but a new movie in cinemas this March examines exactly what happens to the human body – specifically actor Damon Gameau's body – after just 60 days of a low-fat, high-sugar diet.
The film he directed and stars in – That Sugar Film – is in the same vein as Morgan Spurlock's human guinea pig venture Super Size Me (in which Spurlock eats nothing but Macca's), and Michael Moore's dark humour-driven investigative films. It converted this writer to ditching the sugar… see how you go after reading these five findings.
1. All calories are not equal
Damon found that despite consuming fewer calories per day than when his diet included good fats such as nuts and avocado, he put on 8.5kg during this experiment. Yep, this low-fat diet added an extra 10cm to his waistline, also earning him an 'unstable' level of mental functioning and the early stages fatty liver disease. In two months!
RELATED: If living with type 1 diabetes was like The Hunger Games…
2. Food manufacturers are aiming for your "bliss point"
As market researcher who developed Cherry Vanilla Dr Pepper tells Damon, manufacturers have designed their products to contain the maximum sugar we can enjoy – that's your "bliss point". Sugar lights up the same areas as cocaine and sex, so of course the food industry wants you addicted. "But those reward centres are also activated by having a really great conversation with a friend or running around in the park," Damon tells us. "We have to move away from getting our rewards from a caramel latte. If you can transition away from that – which for me took about a week – then you start to feel lighter and clearer."
2. You might be TOFI – thin outside, fat inside
"It's a very new term that should alarm people who have a high-sugar diet but aren't obese," warns Damon. "What we know about fructose now is that it causes visceral fat. There are two types of fat – subcutaneous fat is on the outside and it's seen as relatively harmless in comparison to visceral, which is the one that gathers around your organs and causes Type 2 diabetes." If you think you could be harbouring this baddie, you can get a test for the level of triglycerides in your blood."
The daily habit that could be ruining your childrens' future.