In 2002, Liskula Cohen walked off the set where she was being photographed for Vogue by a man named Terry Richardson, who often asks his models to call him Uncle Terry.
It was no small shoot. In fashion, Vogue is no small title, and in fashion photography, Terry Richardson is no small name.
"He wanted me to be completely naked and pretend to give one of the men a sex act, while he was also naked," Cohen would later tell New Statesman in 2014, some 12 years later. For the purpose of the shoot, the men were not actors, models or artists. They were simply Richardson's friends.
"I worked with him once… and I would never work with him again. Not even if it was a zillion dollar contract with security guards and my own mother present. This monster has brought me so much unhappiness in my life from one photo shoot. You may think that is crazy, but it's true. No, he did not rape me, he did not touch me in anyway. But he did make me feel so uncomfortable that I walked off the shoot. In 24 years of modeling I have only walked out once. He made me feel as if I was a prostitute, a whore or even less than if possible," she told Girlie Girl Army in 2013.
Terry Richardson – famed fashion photographer with money, acclaim and the status that comes with sprinklings of famous friends – is known in fashion circles for a particular kind of photo.
The photo will almost always be about sex, whether that be literal or implied. The subject will be leaning on a blank canvas of a wall, clothes will be scarce and if a finger or two aren't in the mouth, something else will be.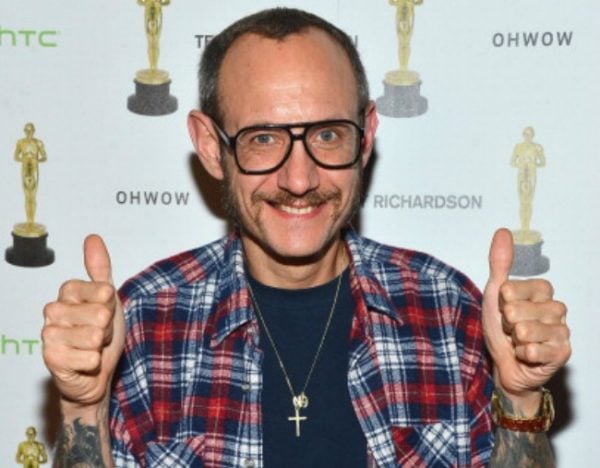 Think Megan Fox in nothing but a black bikini, in front of a red wall, with cherries held tight between her lips. Jessica Alba posing in front of a white wall, a red shirt undone to her waistline, her teeth nibbling the petals of a rose. Rihanna against a similarly white wall, a spaghetti strap camisole with a plunging neckline covering her chest and cigarette smoke billowing from her mouth.
Richardson's photography is internationally celebrated for its propensity to turn fashion into soft-porn. That is, of course, when he isn't photographing a man.
Often clad in a shapeless plaid shirt and old school coke bottle glasses, Richardson, 52, is known now as much for his photography as he is for the moustache that makes its way from his upper lip to either side of his chin.
His father was a fashion photographer who ran off with a teenager when Richardson was just a toddler, and who later descended into schizophrenia and homelessness. His mother had a brain-damaging car accident when he was nine. He is a former punk rocker-wannabe and heroin addict who has been profiled in New York magazine, has shot Barack Obama and had his work appear in GQ, Harpers Bazaar, Rolling Stone, Vanity Fair and Vogue.
An enigma but an artist, some say. A sexual predator with a camera, say others.
Seven years ago, model Jamie Peck wrote for The Gloss about being 19, one of Richardson's subjects and allegedly thrust into a scenario it has taken years to subsequently make sense of.
"I told him I had my period so I wanted to keep my underwear on, and he asked me to take my tampon out for him to play with. 'I love tampons!' he said, in that psychotically upbeat way that temporarily convinces so many girls that what's fun for Uncle Terry is fun for them.
"I politely declined his offer to make tea out of my bloody c**t plug. It was then that he decided to just get naked," she said.
"I'm not sure how he maneuvered me over to the couch, but at some point he strongly suggested I touch his terrifying penis … He was so darn friendly and happy about it all, and his assistants were so stoked on it as well, that I didn't want to be the killjoy in the room. My new fake friends would've been bummed if I'd said no. I must have said something about finals, because he told me, 'If you make me come, you get an A.' So I did! Pretty fast, I might add. All over my left hand. His assistant handed me a towel."
In the same year, another model Rie Rasmussen alleged to Page Six that Richardson "takes girls who are young, manipulates them to take their clothes off and takes pictures of them they will be ashamed of. They are too afraid to say no because their agency booked them on the job and are too young to stand up for themselves."
In 2014, model Charlotte Waters went public with her own experiences with Richardson, telling Vocativ she was just 19 when she first modelled for the photographer. Within an hour of the model arriving on set, Waters alleges he had "licked her arse" and demanded she "squeeze his balls".
"He told me to perform oral sex on him. He started aggressively kissing me. I don't even really remember what specific things were happening at that point, but he was directing everything. Like, 'OK squeeze my balls,' 'OK, put my dick in your mouth,' 'OK, now kiss me.' It wasn't intimate. He also straddled me and started jerking off on my face."
In 2007, Coco Rocha said she wouldn't shoot with him again because she "didn't feel comfortable". In 2008, Jezebel received an email from a stylist named Anna who once shot with the photographer and claims when she was posing on the floor, she "felt a dick pressing into the side of [her] face".
Listen: Why the Harvey Weinstein scandal is having such an impact all over the world. (Post continues...)

"Terry Richardson's semi-hard penis was plunged into the outside of my cheek, and he was jabbing it into my face," she claimed.
In 2009, 19-year-old model Sena Cech alleged on the documentary Picture Me that she was asked to strip for a photoshoot with Richardson and give him a "violent" hand job. She said Richardson also stripped naked while taking the photos.
It should be noted the photographer denies any allegations of harassment, though has never been shy engaging in discussions about the intersection between overt sexuality and his 'art'.
Ten years ago, he now infamously told Hint Fashion Magazine, "it's not who you know, it's who you blow. I don't have a hole in my jeans for nothing."
In 2017, a deep-dive of Richardson online gives you a littering of as many of his photos as it does of allegations of harassment, misconduct and assault. With so many accusations shrouding his reputation and clouding his talent, you could reasonably argue Terry Richardson is the Harvey Weinstein of the fashion industry, with scores of women desperate to tell their stories about their encounters with a man who they allege acts inappropriately under the guise of making art.
Weinstein's actions, Hollywood argues, were the industry's ugly open secret for three decades. But Richardson? Rumours of Richardson have been publicly circulating for well over a decade, making the claims about him the world's ugly open secret.
So why, you may ask, has the response to Weinstein been swift and strong, and the response to Richardson slow and stagnant? Ask supermodel Christy Turlington, and she'll tell you the fashion industry is "surrounded" by "predators".
"I can say that harassment and mistreatment have always been widely known and tolerated in the industry. The industry is surrounded by predators who thrive on the constant rejection and loneliness so many of us have experienced at some point in our careers," she told Women's Wear Daily, in the wake of the Hollywood Weinstein scandal.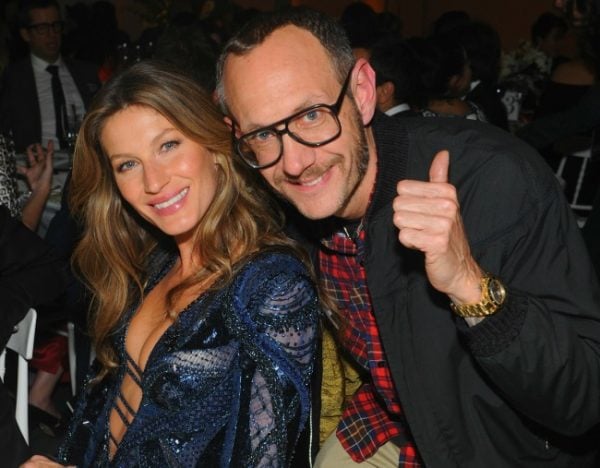 "There were many times I could not believe who I was left under the care of on early trips to Milan, Paris or London. I would get off of a flight and find some creepy playboy type there to meet me."
Ask model Cameron Russell, and sexual harassment is something that has been rife and rampant in the fashion industry for decades, its own open secret and part of parcel of the young modelling experience. It's something she's determined to rectify - in the last week alone posting on her Instagram account the detailed experiences of over 80 women who allege their time in the industry has been hindered by harassment.
"How often have you heard 'this is art' or 'this is a creative field' as an excuse to glorify oppressive and even violent behaviour?" she wrote on Instagram.
"I'm proud of women who are breaking their silence, and hoping all the men who aren't being called out are listening and waking up."
Hadley Freeman of The Guardian claims Richardson is "fashion's shameful secret", though these days, allegations of his actions are hardly a secret at all.
So what will it take for a man to face the women who claim he has inflicted monumental harm, when public rumour and shaming hasn't been enough?
Perhaps now, in a climate where women feel they're not shouting their experiences into a void, but instead a cloud of solidarity and strength, will the fashion industry acknowledge the allegations of its women.
"I was a shy kid," Terry Richardson once said, "and now I'm this powerful guy with a boner, dominating all these girls."
Who knows, maybe one day - if these accusations prove true - the dominated women can reclaim control, leaving Richardson with nothing more than a boner and memories of a lost reign.