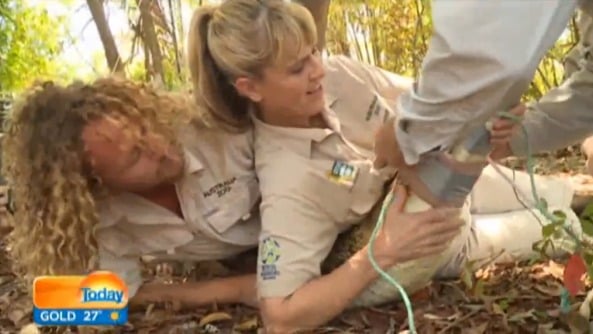 Crikey…
It has been rumoured that curly-haired Big Brother winner Tim Dormer, 29, has a new girlfriend. Seems innocent enough. But the identity of his rumored new-flame has us scratching our heads…
Apparently he is dating Terri Irwin, 50. Yes, the Terri Irwin.
"They make each other laugh," an insider told New Idea. "They have so much in common. Tim really admires her and is in awe of the work she does – and, frankly, he doesn't mind an older lady!"
Yet since the rumours have surfaced, Tim has come out to set the record straight. "I'm speechless," Tim told News.com.au. "I don't know whether to laugh or cry."
"I'm so embarrassed. I have nothing but respect for Terri and the Irwins, I'm friends with the whole family, but the story is complete rubbish. Our relationship is purely professional," Tim explained.
Tim is an ambassador for the Wildlife Warriors campaign at Australia Zoo, so has been spending a lot of time in Terri's company. Yet New Idea claims the pair have been on a few intimate dates. And were inseparable at the recent Steve Irwin Gala Dinner.