When 18-year-old Miranda Baker, a student at Iowa State University, shared her 'before and after' weight-loss pictures on Twitter, she had no idea they would be seen all over the world.
That's because the way Miranda lost 90 kilograms was….well, it was rather unconventional.
You see, Miranda had been dating a guy for five weeks when he labelled her "disgusting". So, she broke up with him.
Yep, she kicked all 90 kilograms of him to the curb.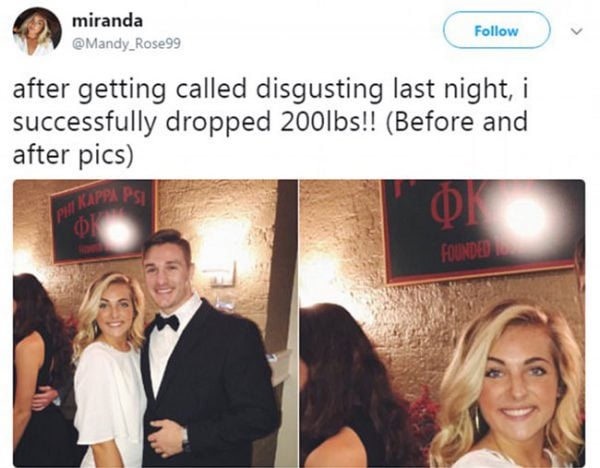 "After getting called disgusting last night, I successfully dropped 200lbs!! (Before and after pics)," she wrote in a tweet that has been re-tweeted more than 30,000 times.
She shared two pictures - one with him, the other with him cropped out.
Speaking to The Daily Mail, Miranda said the pair were attending his fraternity formal together when her date turned to her and said, "the way you were acting today was disgusting and unattractive".
With no justification for his statement, she left the event - and him - to meet up with friends.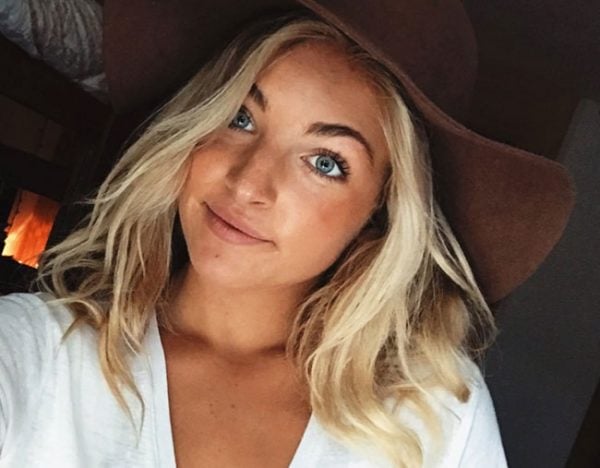 "About an hour later he called me, yelling at me to apologise for leaving him!" she told The Daily Mail.
"I said, 'I will not apologise for leaving you after you called me disgusting and unattractive.'."
People who had seen Miranda's hilarious 'weight loss' tweet were quick to praise her for knowing her worth.
When a girl is so confident that she is radiant. ???????? You are utterly gorgeous! #hewasblind pic.twitter.com/cCNfJla7XV

— v_ (@v_isforvague) November 13, 2017
This is the best thing I have seen all day! Know your worth girl! ????????

— Mikayla Rose (@Mikayla_Becker6) November 12, 2017
Some even suggested Miranda gain back a little weight.
I think you need to gain a healthy 165 now ???????????? pic.twitter.com/aTcGQXupTO

— Noah ???????? (@NoahFerrell10) November 12, 2017
Nice try, Noah.
Despite not intending for her breakup post to go viral, Miranda said she was pleasantly surprised by the outcome.
"I've gotten messages from [women] telling me they were in awful and abusive relationships," she shared on Twitter.
"Although mine wasn't abusive, I felt like I was helping these [women]."
LISTEN: What to say when everyone says "I can't believe you're not taken".