When 18-year-old Miranda Baker, a student at Iowa State University, shared her 'before and after' weight-loss pictures on Twitter, she had no idea they would be seen all over the world.
That's because the way Miranda lost 90 kilograms was….well, it was rather unconventional.
You see, Miranda had been dating a guy for five weeks when he labelled her "disgusting". So, she broke up with him.
Yep, she kicked all 90 kilograms of him to the curb.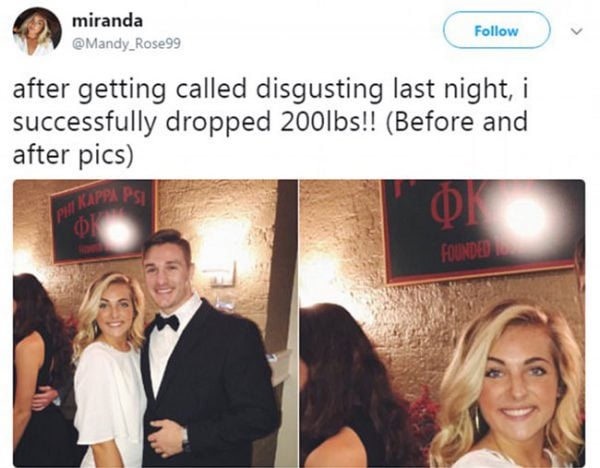 "After getting called disgusting last night, I successfully dropped 200lbs!! (Before and after pics)," she wrote in a tweet that has been re-tweeted more than 30,000 times.
She shared two pictures - one with him, the other with him cropped out.
Speaking to The Daily Mail, Miranda said the pair were attending his fraternity formal together when her date turned to her and said, "the way you were acting today was disgusting and unattractive".
With no justification for his statement, she left the event - and him - to meet up with friends.