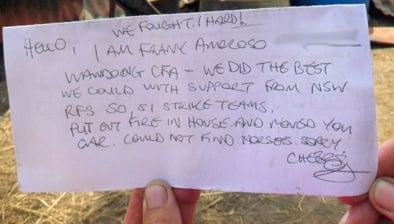 1. Teenagers in de facto relationships
According to a report by News Limited today hundreds of teenage girls across the country are living in de facto relationships.
The startling statistic comes out a day after Police revealed that charges will be laid against the Iman who 'married' a twelve-year old girl to a 26-year old man in NSW.
NSW Women's Minister Pru Goward has written to federal counterpart Michaelia Cash to push for a national awareness campaigns on underage and forced marriage.
"Every young girl in NSW should have the opportunity to make her own choices about her future, and underage marriage is completely unacceptable," Ms Goward said.

2. Daniel Morcombe's alleged killer's trial
The trial of Daniel Morecombe's accused killer Brett Peter Cowan will continue today in the Queensland Supreme Court.
Evidence presented yesterday told the jury of an elaborate police sting that was set up to force an alleged confession from Brett Peter Cowan.
Daniel's parents Denise and Bruce Morecombe also gave evidence.
For more read this post here " How could any parent listen to this"?

3. Gittany to appeal
Simon Gittany who was yesterday jailed for a minimum of 18 years with a maximum of 26 years for killing his fiancée Lisa Harnum by throwing her off a Sydney high rise in 2011 has indicated through his lawyers that he will appeal the sentence.
Meanwhile it has been revealed that Channel Seven paid $150,000 to Rachelle Louise, the girlfriend of killer Simon Gittany, for her two-part Sunday Night interview.
Lisa Harnum's mother, Joan told media waiting outside the courtroom that she too had signed a deal with Channel Seven.
4. Closing the Gap
Tony Abbott is due to deliver his 'Closing the Gap' report in Parliament this morning.
The Australian report that his address will show while progress has been made "it is clear we are still failing in too many areas" of indigenous health, jobs and education.
Progress towards the target to halve the gap in reading, writing and numeracy within a decade has been disappointing. Only two out of eight areas have shown significant improvement since 2008.

5. Shirley Temple dies
Shirley Temple – Hollywood's most famous child actor has died in her home aged 85.
For more read this post here.
6. Schoolboy allegedly sexual sexually groomed by teacher
The mother of a schoolboy who was allegedly sexually groomed by a PE teacher in Adelaide has spoken to The Advertiser saying that the Department of Education let her son down.
She claims he is still bullied by students at school, that no one took his complaints seriously and that one teacher accused him of being 'homosexual' when he put forward his accusations against the teacher who allegedly sexually groomed him.

7. Fresh evidence in gang rape
News Limited has reported that evidence has emerged that the victim of Saturday's gang rape in Sydney's west knew her attackers – and even went to school with one of the boys.