Baby Laura was born deaf but her mother was determined to do something about it and make her baby's life easier.
Mother of three, Dr Belinda Barnet, knew how hard it can be – she was born profoundly deaf in her left ear.
The university lecturer says she was lucky enough to be able to take 18-months off work to teach her child to talk.
"She is a gorgeous little blue-eyed cheeky muffin but there's just additional element when a child has a disability that initially causes stress. It felt like I couldn't take a breath or stop until I was sure she was going to be okay," said Dr Barnet.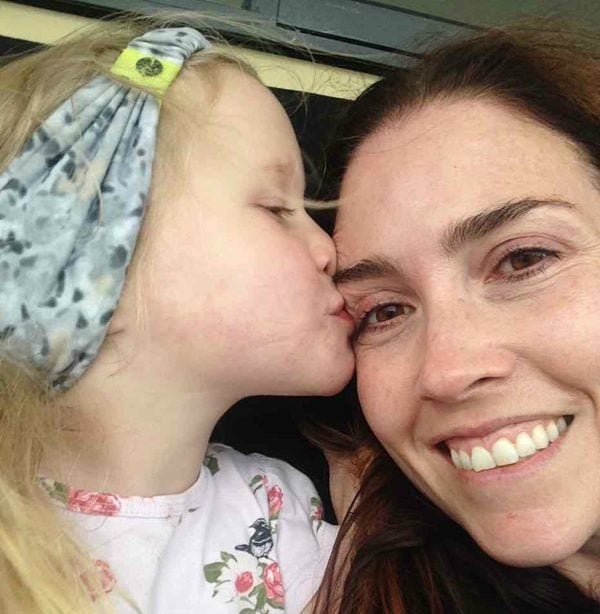 At 11 months old, her baby daughter was fitted with bilateral cochlear implants and the pair started intense early intervention therapy.
With a few pathology courses under her belt, the Melbourne mother spent 14 months at home trying to coax a sound from her daughter.
It was six months after Laura got her implants that she spoke.
"Her first word was 'up'," she told Mamamia.
Laura was 15 months old, she had often raised her hands to ask her mother to lift her but that day, she asked.
"I just felt like crying with happiness that she'd used a word," Dr Barnet said.
"Then they just came. They just tumbled out. By the time she was two she had 400 and I stopped counting after two."
"Laura can hear better than me."
Now four-year-old Laura, the youngest of three children speaks "beautifully", she dobs on her brother and occasionally makes things up.  She talks "non-stop" and likes to sing Let it Go in the car.
"She can hear everything. She can hear better than me – for example if another kid is screaming in a room in the house I can't tell where it is coming from because I have no directional hearing. Laura can tell me which room they're in or where it's coming from," said the mother of three.
"You meet Laura and you wouldn't know there's an impairment and that's actually what I would like to see all kids turn out like," said Dr Barnet.