Xia Vigor does a great Taylor Swift impression. Her version of "You Belong With Me" has racked up four million YouTube views in just three days. She does the voice, the hair toss, and even the costume change.
Oh, and she's just seven years old.
Xia, who was born in the UK but now lives in the Philippines, did her Taylor Swift impression on the talent show Your Face Sounds Familiar Kids. British TV commentators were quick to criticise.
"I have a real, visceral response to it. I'm repulsed by it," Nadia Sawalha said on the panel show Loose Women.
"Obviously she doesn't know, she's completely innocent, but for me, those are sexualised moves she's been taught. She'd have had hours and hours of rehearsals with someone going, 'No, not like that, more like this,' and I just think, 'Why? Why so young?'"
Meanwhile, Piers Morgan labelled it "one of the creepiest things I've ever watched".
"It's not good," he added. "The whole sexualisation of young girls like this, I don't like it at all, I'm afraid."
But Xia's dad Alan told MailOnline Morgan was wrong.
"On the show next week, Xia is going to dress up as Axl Rose. It's like a pantomime. It's been taken out of context. She's not going to a friend's birthday party in high heels and lipstick. It's not like that. She would never dress up like that on a normal day."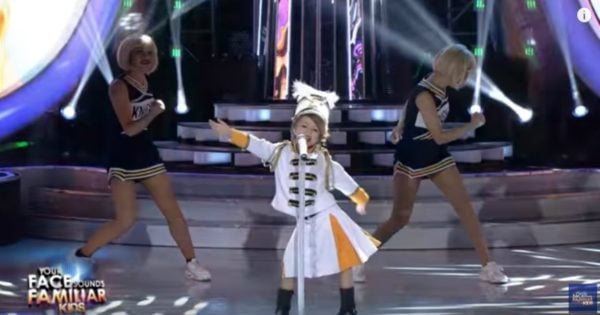 Xia in action. Image via YouTube.