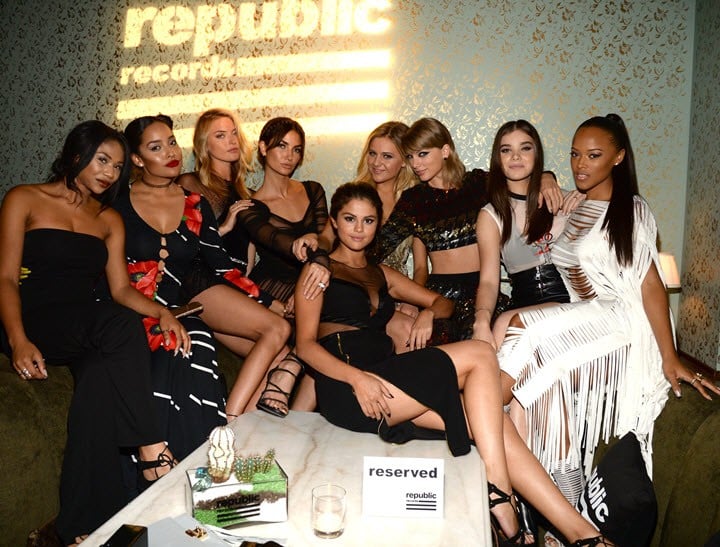 Last December, I was working on the weekend and my colleagues kept messaging me a picture and telling me that we needed to write about it. "IT'S THE INSTAGRAM PIC YOU WISH YOU WERE IN!". In truth it was small and blurry and someone was wearing a mask that maybe was a poo?
My colleagues were right, of course. It was the biggest Instagram picture of the year. It was Taylor Swift's 25th birthday and there were lots of celebrities there having a great time (Jay-Z, Beyonce, Sam Smith, Karlie Kloss, Emma Roberts, models, actors, performers. Justin Timberlake was under the poo mask).
I know who Taylor Swift is. I know how to Shake it Off. I like that she is tall. But that was my first real sense of Taylor Swift's party posse. Her penchant for being photographed surrounded by other celebrities. And this was different than when Paris Hilton or Kim Kardashian did it because Taylor Swift's celebrity friends seemed to be pretty happy to be there. They seemed to be having a good time. They seemed to like this 25 year old woman. Good for them.
Flash forward half a year and the images of Swift with her mates have become THE Taylor Swift story. While the use of the word "squad" to describe a group of friends has been around for decades, the phrase "#SquadGoals" is now synonymous with Swift and her celebrity pals.
Taylor Swift has a Girl Squad, filled with the best looking, coolest women around. A flick through her Instagram will show you how she rolls: She and her cool girl group are just hanging out being fun and carefree. At the MTV VMAs this year, she and her group sat at a table adorned with a sign that said "reserved". The expressions on the faces of Taylor Swift and her friends scream exclusivity.