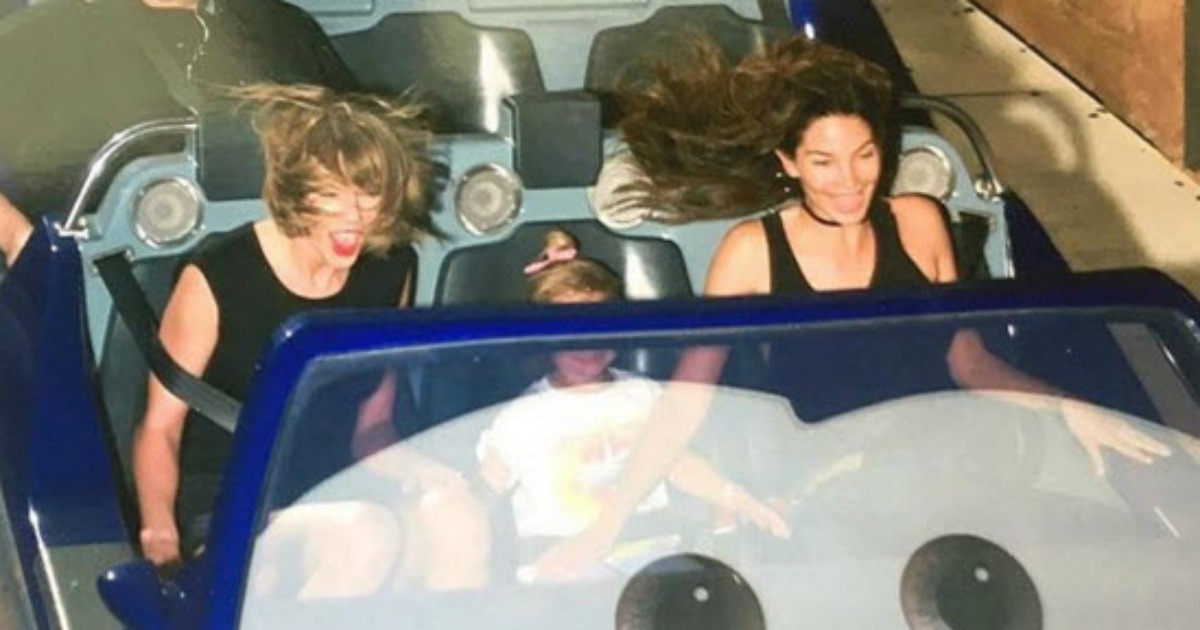 When the world's biggest pop-star and her Victoria's Secret model BFF are both in the busiest happiest place on earth at the same time, you'd expect it to receive some media attention.
But perhaps not for this reason.
Taylor Swift and Lily Aldridge have been completely upstaged by Taylor's bodyguard.
The 26-year-old singer visited Disneyland with Aldridge and her three-year-old daughter Dixie Pearl over the weekend. Like all of us, the trio were sucked into purchasing the ridiculously overpriced but absolutely hilarious roller-coaster souvenir photo.
Taylor shared the snap on Instagram yesterday with the caption "Disney with the girls".
Only, no one cares about 'the girls'.
Because everyone is too busy looking at this guy:
Hero. (Image via Instagram/Taylor Swift)
While the ladies are up the front, squealing with delight, their hair blowing in the wind, this guy looks like someone just told him an anecdote about their grandmother's cat: Not amused.
The photo has been liked over 1.5 million times and has so far received over 26,000 comments. Many of those comments are from fans, not necessarily of Taylor, but of her straight-faced bodyguard.
"The body guard is a straight BOSS! Well done whoever hired that guy," wrote one fan.
"That guy in the back looks like he's having fun..." said another.
Up and down on a roller-coaster, how-ever-many miles an hour and not even a twitch of excitement. This guy is so stoic could give a palace guard a run for their money.
Friends often have their own special language. Wonder what the last text Lily and Taylor sent was...