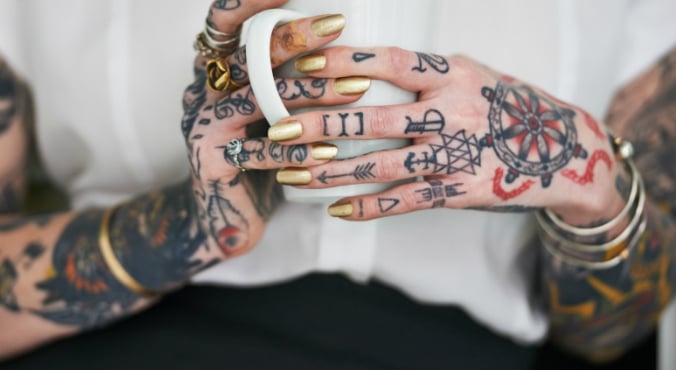 Image: iStock 
As someone who got a dolphin tattooed on her right hip at the tender age of 17, it won't shock you to hear that I regret that ill-thought out decision.
It's not that I have anything against tattoos, I love them on other people. It's just that well… I have a dolphin on my hip.
Related: You can tattoo your eyeballs. But that doesn't mean you should.
But there is hope for those of us suffering from tattoo regret. One Canadian student, Alec Falkenham, has developed a pain-free tattoo removal cream that costs less than six bucks.
According to The Independent, the cream works by targeting the inked white blood cells in your skin called macrophages. It essentially encourages  new cells to take over and replace the old tattooed ones, carrying the pigment away through the body's lymph nodes, which in turn slowly fades the tattoo.
Related: How can a massive tattoo still look pretty and feminine? Like this.
As the cream is still in its testing phase – he's been trialling it on tattooed pig's ears with great success – Falkenham can't yet tell how many applications it will take to completely fade, say a blue and green dolphin. But he estimates that it will only cost four cents per square centimetre – or roughly $6 for a 10-centimetre by 10-centimetre area.
Six dollars and zero pain? Sign me up. I'd be PicoSure-lasering my tattoo off right now if I wasn't pregnant. Except my editor Jenny Valentish (who incidentally has many magnificent tattoos) disagrees, she thinks I should keep my dolphin.
Here's how she tried to convince me to keep it via our office chat program: