Opening The Project on Thursday night, the show's host Carrie Bickmore wanted to know how the US will respond to the latest chemical attack in Syria that reportedly killed 70 people  – so many of them children.
The mother of two couldn't fight back her tears as she turned to co-host Waleed Aly and asked for reassurance that the world's biggest power must surely do something in response to such horrific deaths of the young and innocent and vulnerable.
"I just can't see those images, I find them incredibly distressing and I know I'm not alone," the 36-year-old told the audience.
"I know that our tears, our feeling so sad, they aren't going to do anything," she continued.
"And I know us sitting here in safe Australia, us feeling sad for these people doesn't change anything.
"What can Trump do? Will he change his mind? Will he act?"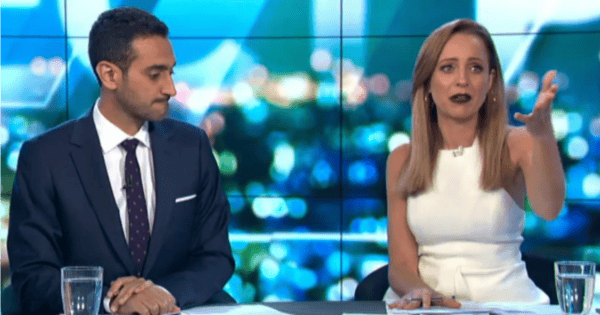 Her obvious despair, and sense of helplessness, echoed that felt by so many around the world.
Historically, US President Donald Trump has been against America's involvement in Syria. He urged former US President Barack Obama not to act after the 2013 chemical attacks, tweeting the US should "save its powder for another day".
Today, President Trump condemned the Syrian government's use of chemical weapons during a press conference at the White House. But he said nothing about how the US might deal with Bashar al-Assad - the President of Syria and the man responsible for these attacks.
"I will tell you that attack on children yesterday had a big impact on me – big impact," President Trump said. "My attitude toward Syria and Assad has changed very much … You're now talking about a whole different level."
Yes, but what will you do? Bickmore pleaded. The Syrian government must be stopped.
We saw toddlers in nappies, their bodies so burnt they couldn't be handled with bare hands. There were young kids convulsing, fighting for breath, foaming at the mouth, surrounded by debris.
"I don't have anything optimistic to say," Aly told Bickmore.
He spoke about Trump's history of "saying very nice things about Asaad's regime", and about the statement of US Secretary of State Rex Tillerson from only days ago that said: "Whether or not Bashar al-Assad will survive in Syria is a matter for the Syrian people," effectively confirming the US will stay out of it.
Aly also mentioned the United Nations, an organisation of peace that cannot do anything to interfere in Syria because of pressure from Russia.
Abdul Hamid Youssef losed 20 martyrs from his family at the chemical massacre including his wife and his twin children Ahmed and Aiya pic.twitter.com/jBu6Qeqpgn

— Asaad Hanna (@AsaadHannaa) April 5, 2017
The conversation went back and forth on The Project's panel, the situation sounding more and more desperate.
Bickmore left us with one final thought: "Imagine the dad with his twins dead in his arms..."
Her eyes were watering, she shrugged her shoulders, and the show went to a break. Australia was right there with her.
Thanks for your compassion @BickmoreCarrie It's about time a few more expressed sheer horror at all the suffering in Syria #TheProjectTV

— RonnyB (@MsRonnyB) April 6, 2017
.@BickmoreCarrie: "Our tears, us feeling sad - it ain't gonna do anything. And I know that." #TheProjectTV

— #TheProjectTV (@theprojecttv) April 6, 2017
Big hugs to @BickmoreCarrie. No words for what is happening in Syria. #TheProjectTV

— Dan (@That_Dan_Guy) April 6, 2017