Late on Saturday, as babies slept, multiple barrel bombs could be heard falling from the sky in the suburb of Douma, east of Demascus in Syria.
The bombardment would not stop until 11am the next day.
According to Moaed Dumane, a political science student who was hiding with his family and neighbours inside a shelter, heavy shelling and airstrikes attacked everything outside that moved.
On Sunday morning, Dumane left the shelter and noticed a "strong, strange smell". He also saw that many families who had been in their homes were now fatally trapped.
This scene was not new to Dumane, who has lost 33 family members in the seven years since the Syrian civil war began, including his father and brother who were executed by the Syrian government.
President Donald Trump has responded to the chemical attack. Listen to the latest episode of our Trump podcast, Tell Me It's Going To Be OK.
Dumane has in the last 24 hours fled Demascus, telling The New Yorker: "I'm packing all the videos and photos I collected that we took of the city. These are the last memories that we have. There's something we cannot take with us. We cannot take our families who are buried in the ground."
He will also take with him the memory of the lifeless faces he saw on Sunday.
"Their pupils were narrow," he writes. "Most victims were women and children. It was a horrific scene. The smell was extremely strong."
The smell Dumane is referring to is thought to be one resembling chlorine, an odour now being omitted by the bodies that had absorbed the deadly chemical cocktail, including Sarin, a toxic nerve agent, left by the bombs.
He believes, with good reason, that the attack was perpetrated by the Assad government. Bashar-al Assad – the President of Syria – has firmly denied any involvement in the chemical attack, along with his Russian allies, accusing rebels of fabricating the strike.
Footage circulating online shows children foaming at the mouth, convulsing, and struggling to breathe. Their skin is discoloured, bruised and damp, and their eyes severely burned.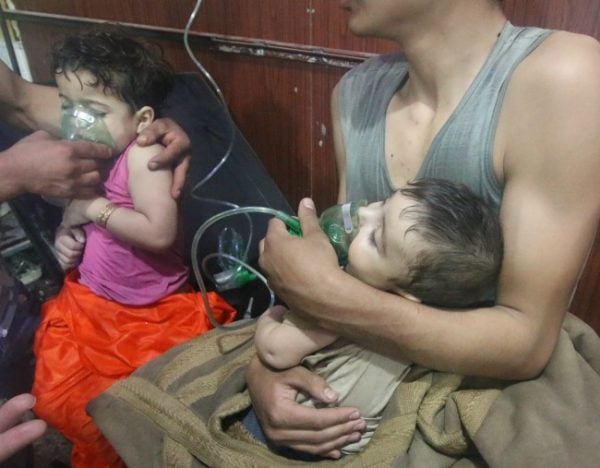 Medics have described, "wheezing and coarse bronchial sounds" - an indication that victims were choking to death.
Hundreds of people were rushed to medical centres, which had too been bombed, with symptoms resulting from "exposure to a chemical agent".
Official sources have at this stage estimated the death toll to be at 70, with many casualties being young children.
In the days since, entire families have been found dead in their homes. Others suffocated in a matter of minutes, inside the shelters they hid in.
The Syrian civil war, which has claimed more than half a million lives, has been raging since 2011, and Assad has been known to deploy chemical weapons as a particularly heinous way of murdering his own people.
On Tuesday, the United Nations tweeted: "The intl community's collective shrug in response to the use of one of the most ghastly weapons ever devised by man is incredibly dangerous. The use of chemical weapons is being normalized in Syria."
Israel has accused Syria of committing "crimes against humanity", holding Assad's regime responsible.
Related: A new psychological term has been coined to describe the suffering of Syrian children.
Israel's Foreign Ministry issued a statement that read: "The attack shows clearly that Syria continues to possess lethal chemical weapons capabilities and even to manufacture new ones.
"In so doing Syria is grossly violating its obligations and the decisions of the international community in this matter."
As of Tuesday afternoon, the death toll, nor the exact sequence of events have been independently verified, as the area of Douma remains blocked off.
One year ago, almost to the day, a chemical gas attack on the town of Khan Shaykhun, Syria, killed 74 civilians. In 2013, a chemical attack in Ghouta, Syria took the lives of between 281 and 1,729 people.
This week, history repeats itself.