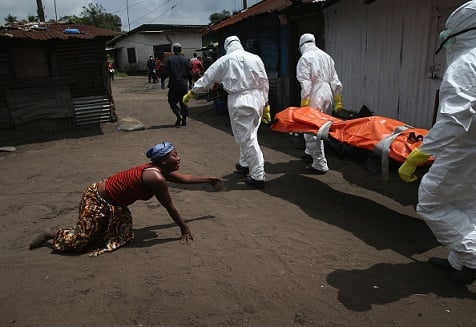 Four new suspected Ebola patients, including a feverish passenger removed from a plane in Madrid, have been reported by Spanish authorities.
The reports follow news earlier this week that a second Texas health care worker – Amber Jay Vinson , a 29-year-old nurse from Ohio –  tested positive for the deadly virus after treating a West African man who ultimately died from the disease.
Now, officials are trying to track down and interview all 132 people on the flight Vinson took just before her diagnosis — and concerns are mounting about the spread of the virus across the globe.
If you, like the rest of the world, have a bunch of burning questions about this frightening disease, take five minutes to read through Mamamia's Ebola cheat sheet.
What are the symptoms of Ebola?
"The disease caused by the virus is dramatic and awful," epidemiologist and infectious diseases specialist Allen Cheng writes for The Conversation.
While it starts with flu-like symptoms including a sore throat, fever and muscle pain, within a few days nausea, vomiting and diarrhoea develop.
"While all this is happening, the virus is also attacking the internal organs, particularly the liver and kidneys. As these organs start to fail, the patient starts to bleed and eventually succumbs to dehydration and blood loss," Dr Cheng says.
How fatal is Ebola?
According to The Conversation, while the death rate from the virus was previously said to be 49 per cent, the World Health Organisation has recently calculated the fatality rate among confirmed cases to be above 70 per cent overall and 64 per cent for those who were hospitalised.
How is it transmitted?
The Conversation reports that "the prevailing view is that infections can only be transmitted by one of three mutually exclusive routes – contact, droplet or airborne."