As a child, I couldn't play with any of my stuffed toys without playing with them all. I didn't want them to feel left out.
Now they sit on the top shelf of my wardrobe – all together – but facing forward and not too squished together, to make sure they're comfortable.
You see for me, even the most inanimate objects all have feelings.
Whether it's a discarded soft toy, a pair of shoes I've never worn, the last lonely biscuit in a packet or even a single sheet of paper left in the printer, I feel empathy towards them.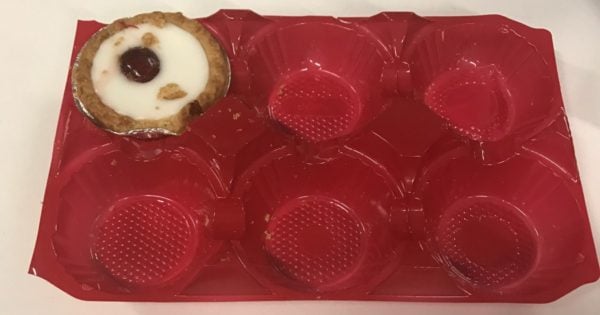 Poor lonely cherry bakewell tart. Image: Supplied.
I used to think I was alone in this habit until a chance Facebook encounter.
In her article on Valentine's Day, writer Sali Hughes spoke of her love for her husband "who understands why I can't throw away a dead pen without a lid to keep it company in the bin."
Finally.
In the comments, there were even more of us.
"I've found another weirdo
 I wonder if she throws a second bit of pasta down the sink to keep the first bit company if it slips out of the colander?!" wrote Helen.