It was the Aussie celebrity wedding that stopped the nation: Today Show host Sylvia Jeffreys and Channel 9 reporter Peter Stefanovic tied the knot in the picturesque Kangaroo Valley over the weekend.
Beating the paps, both Sylvia and Pete – and their high-profile guests, including Lisa Wilkinson and Richard Wilkins – shared snaps from the happy day on social media within hours of the pair tying the knot.
Yesterday, Wilkins shared that the constant buzzing of photography drones and the distant hum of helicopters tried to capture exclusive footage put a "dampener" on the couple's big day.
Now, newlywed Sylvia Jeffreys has shared the extreme lengths the media was willing to go to to snap sneaky pics of her wedding.
Posting on Instagram, Sylvia shared a photo of a photographer's car that had driven into a dam trying to 'crash' her wedding.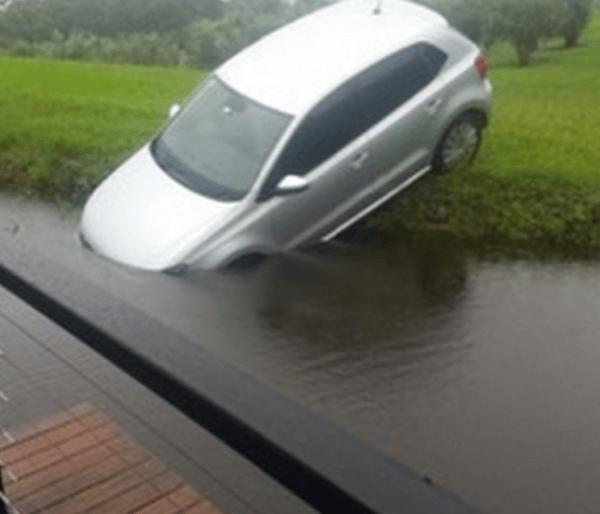 "Shout out to the determined pap who was this keen to crash our wedding (no pun intended)," she captioned the hilarious picture.
"Not sure how you managed to drive into a dam...but hope you've dried out."
LISTEN: A study shows being a bridesmaid is the equivalent of a full week's work. Is it time to ditch them?
Commenters were quick to share their own hilarious take on the image, with one writing that Sylvia and Pete "stole the parapazzi's thunder" by sharing their own professional snaps from the event so quickly.
"Karma at it's finest," another wrote, while one person added, "imagine that phone call to the boss".
Sylvia's new husband also shared the snap on social media, writing that the paps had "good hustle" trying to capture their nuptials.
"This one drove his car into a private dam while trying to snap my wedding. Hope you got home safely, son," he wrote.
Despite the drama, we're glad to see the Channel Nine golden couple's big day wasn't 'damp-ened' by the invasion of privacy.
"Thank you everyone so much for all the love and the well wishes and the congratulations that we've received over the last 24 hours," the couple said on the Today Show yesterday.
"We are feeling all your love and all the warmth right now. We're on cloud nine and we just had the best time ever of the last couple of days."
Sylvia Jeffreys and Pete Stefanovic.