Helen Bairstow always had big breasts. E cup breasts that "had always been lumpy". She had no idea what 'normal' breasts should feel like, or that her's weren't.
"I was diagnosed with stage four breast cancer in 2010. I didn't know anything about cancer. It's not in our family, it wasn't something on my radar," the mum-of-one from Cairns told Mamamia.
"I was really, really healthy, I had a five-year-old and we were in the middle of a round Australia trip. I've always been an entrepreneur, and I was the 100 per cent money earner at the time. We were running an online business. And I was tired, I'd been breastfeeding for two years, so I thought that was all normal.
"My understanding of breast cancer was, you had a lump, had it out and maybe went on some drugs and you'd go on with your life. I didn't think it was a big deal, but turns out it had metastasised. I was oblivious to it all."
That year, Helen spent Christmas in hospital undergoing radiation and chemotherapy. Then she went back to living her life – until she found a second lump two years later. From there, the decision to have a double mastectomy was relatively easy. As 'easy' as it can be. Having had big breasts her whole life, Helen didn't mind downsizing to a B cup.
"It's a surreal moment [opting to have a mastectomy]. I was sitting there with my girlfriend choosing breast sizes, I hadn't thought about it much. I would have been fine to have no breasts, but I remember having to fight tooth and nail because I wanted B cup. I wanted to be small – it was so bizarre, but I didn't want big boobs."
Helen's surgery was quite traumatic – she was almost lost to complications on the table. But she did make it through. The scar on her chest from her radiation therapy, as well as scarring and 'an outline' from her implants, meant Helen's wardrobe had to change. So for five years, she chose to dress only in things that covered her scars.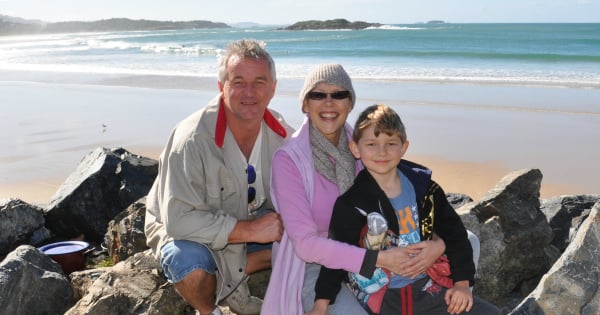 "I would always make sure the scar was covered. At the shops I would always go through [the rack] like 'V neck, nope, V neck, nope' and things had to be straight across [my chest]. I couldn't wear plain colours, it had to have a frill or pattern to hide all the outlines. It was an inconvenience."