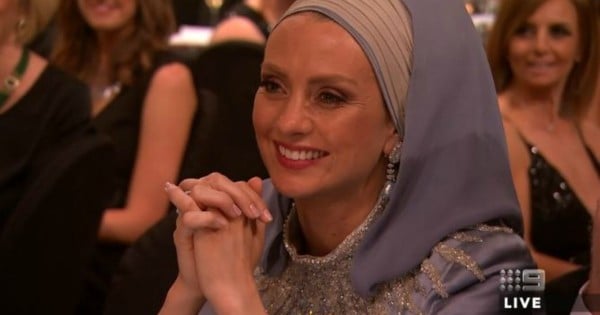 When the man you've been married to for 14 years has just won the Gold Logie, the world's a weird place.
You spent the night in a hotel, someone else took your kids to school this morning and you have a big work lecture to prepare for this afternoon. Life goes on as normal, but everyone, like everyone, wants a piece of your husband.
Listen to Susan tell The Binge about Logie night, here:
"It was surreal, so surreal. Amazing and excited and I was just so ridiculously proud, just bursting," says Susan of the moment Waleed's name was read out. "He was nervous about this speech… so as his wife I was nervous for him. But so, so proud. For me, the world is realising what I've always known about this guy, for 15 years. The world's just catching up."
In his much-admired speech last night, Waleed deflected praise onto his impressive wife, who is an academic, a writer, the holder of a PHD and a regular guest on the podcast Mamamia Out Loud where she offers an opinion on many, many issues, none of which have anything to do with Waleed.
"[My wife is] sharper, wittier, funnier and infinitely more charming and likeable [than I]," he told the world. "I'm really glad she doesn't have my job because otherwise I definitely wouldn't have it."
For Susan, it was an intimate moment. "Obviously I had no idea he was going to say that… And I had tears in my eyes but I fought them back because I didn't want it to become about me. I didn't want TV crews to be saying, 'She's crying!' I wanted it to be about Waleed. But I was a bit teary when I woke up this morning and reflected on it… It was just so totally, ridiculously generous.
"And it's funny, because it was the two of us in this room full of thousand people and however many thousands of people watching at home, but in that moment it was just he and I and it was really lovely.