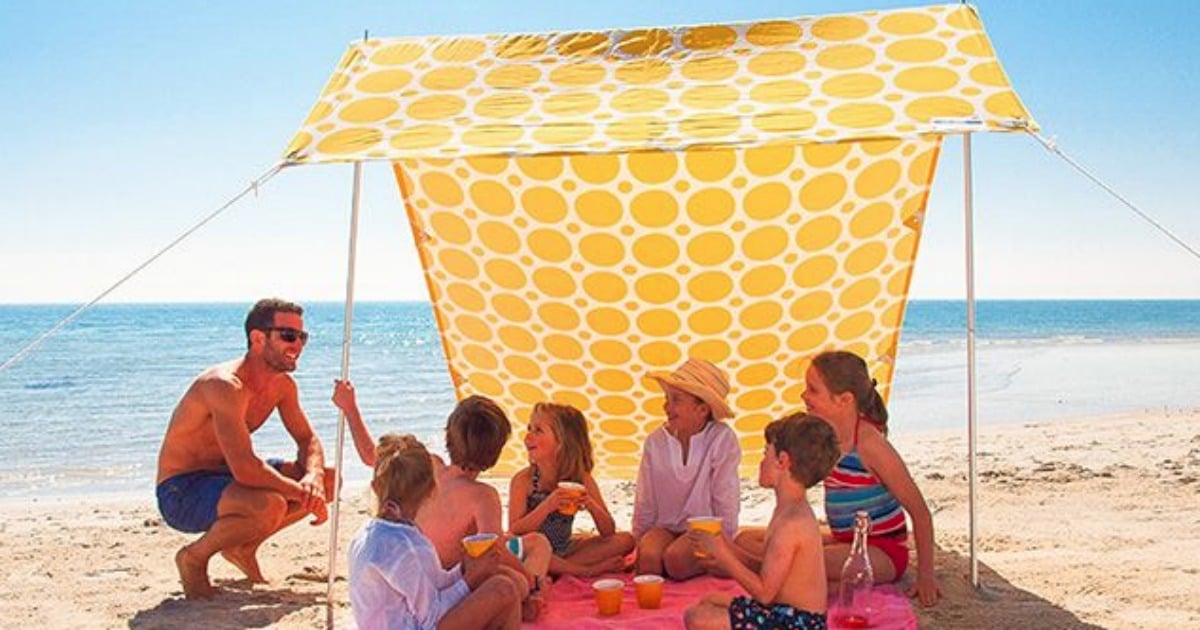 Gone are the days of throwing on your swimmers, grabbing a towel and heading out the door for a day at the beach. Fellow parents will know that a beach trip with small people in tow now consists of spending an hour applying sun cream to people, packing snacks and drinks, making sure you've got enough beach toys and floatation devices and carting along an extraordinary amount of towels.
The amount of times I've taken my kids to the beach and thought "it's just not worth it" is incredible. But, the beach is an awesome place to spend the day. You just need to set yourselves up properly to enjoy it.
Here are our picks of the latest and greatest beach related products so that you too can enjoy your day by the waves.
You can spot the parents at the beach a mile away. They're the ones lugging all the gear, plus a child under each arm (the sands hot on their feet don't cha know!) to the chosen location.
From there, you'll observe them trying to supervise kids while swearing at the goddam beach tent which they bought because it was meant to be super easy to put up and in practice, is anything but. The tent's flying everywhere, the kids are like magnets to the water and you can almost lip-read the swears.
Once the bloody thing is up, the entire family will try and cram into the tiny tent, attempting to stay safe from the sun but effectively resigning themselves to a sauna-like experience.
I too was one of those families. I swear to god last time it took me 25 minutes of swearing, yelling and sweating to try and fold the damn thing back into the bag. I gave up and just carried the tent back to the car.  I actually spotted a sombrilla on the beach over the weekend and knew I had to do some internet hunting when I got home. I sat in my traditional tent, getting more and more annoyed at the sides blowing in and looked on in jealousy at these people, comfortable and enjoying the beach.
The sombrilla turns the traditional beach tent on its head and allows you to sit underneath which space and shade. Shock! You can angle the shade based on what the suns doing, so you'll always have enough sun protection for everyone to sit under. Plus, they're super easy to put up- it was designed by two Aussie mums, so they get it.
If you've ever been brave enough to attempt a beach day with the kids on your own you know that it's hard work. We all know you'll be everyone's pack horse. But the ezybeach changes that.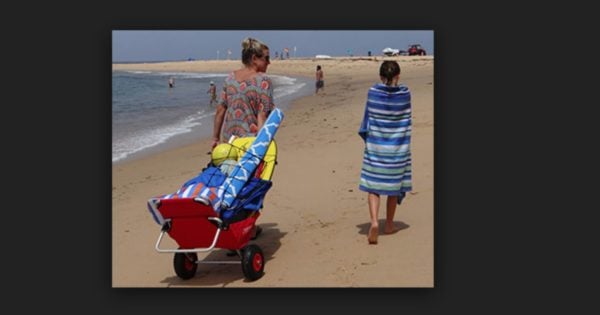 Image: Supplied
Basically, it's a pull along cart that can take up to 90kg of kid related beach junk, it has a handy pocket for storing your keys and smaller items and folds up, weighing only 4.8kg. Most importantly though it then converts into a comfortable seat once you get settled. You've earned it.
Seafolly UV Indicator Wristbands
A day at the beach can turn into a very stressful event when you're constantly worried about the kids getting burnt.
Image: Seafolly
Luckily, Seafolly has come up with a unique idea in their UV indicator wristbands which are designed for the whole family.
They work by measuring the amount of sun you are exposed to and change colour when you've had enough sun or need to apply sun cream. They are designed to be worn all day and can be kept on during swimming or showering. The UV Bands come in a packet of eight and are designed to be used once.
Obviously, you should use the bands in conjunction with other forms of sun protection but for $9.95, if it reminds you to reapply your sun cream, it's worth it.
Ok great so the kids have had a swim and you've wrangled them out of the wet clothes and into some dry ones (we all know how fun damp kids are to get dressed). But what to do with the wad of wet gear you've now got to deal with?
Smelly bag, my friend.
It features a waterproof inside meaning that it won't leak through the bottom or the side seams and is machine washable. There's a zipper to close everything in so when you get it home, chuck the whole thing in the wash and Bob's your auntie's de-facto.
The great thing about these bags (and the larger swim bags) is that you can use them for toilet training as well. Simply pop any accident undies in the bag, seal it up and deal with it when you get home.
The Beach Vault is being touted as the ultimate beach gadget and once you see it you'll be hitting 'buy now' before you know it.
The age-old problem of keeping your valuables safe at the beach is no longer an issue thanks to this clever design. The Beach Vault is a small storage container which is dug underground into the sand. Inside you can place your phone, wallet, keys or anything else you'd like hidden. You then lay your towel over the vault to hide it from view.
Last year I purchased one of these for my husband for Christmas. Ok, it was actually for me. Since then though it has been used almost every weekend.
It's a given that small children will flick sand all over your towel. They literally give no shits. But the quicksand mat eliminates the sand on towels situation. It's a sand free beach mat that has a unique multi weave design, allowing sand to fall through and not come back up.
At 2m x 2m it's big enough for the whole family to sit around and it's super easy to hose down when someone inevitably spills something on it.
If you're brave enough to take your phone to the beach (photo ops, I get it) you can almost guarantee that it will come home with sand all through the crevices (and let's not mention the high probability of one of your kids dripping water on it).
The dry-dock case is the perfect solution. It's 100 per cent water-proof, dust-roof and sand-proof meaning that you can snap away at your kids at the beach without wondering whether you actually did purchase that extended warranty with the phone.
You can still use your headphones with the dry dock, making it great if you happen to get some peace and quiet and there are dry docks available for all makes of phones, tablets and camera.
Your mobile retains full functionality because the dry-dock doesn't affect touch screens and they are reusable meaning that it's also great for fishing trips, camping and even using your phone in the bath. As someone who is on to their third phone (thanks, kids) I'd say this is a solid investment.
Baby powder
This is an extra tip that I feel every parent should hear about when we're talking kids and the beach. Just like zip lock bags, baby powder is nothing new but it is the perfect solution to sandy kids and clean cars.
Basically, the baby powder removes excess moisture from your skin and allows any stuck on sand to come off easily by just brushing it with your hand. You can use it on any part of the body but use caution around young babies. If you'd prefer a more natural option, corn starch does the same thing.