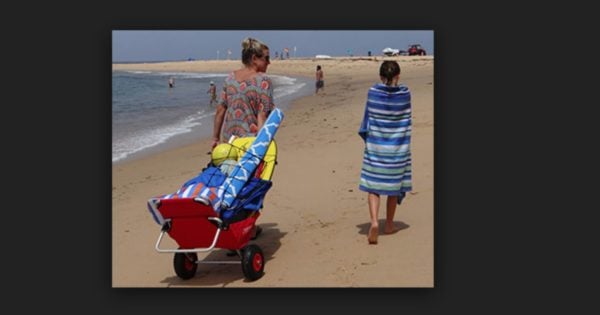 Gone are the days of throwing on your swimmers, grabbing a towel and heading out the door for a day at the beach. Fellow parents will know that a beach trip with small people in tow now consists of spending an hour applying sun cream to people, packing snacks and drinks, making sure you've got enough beach toys and floatation devices and carting along an extraordinary amount of towels.
The amount of times I've taken my kids to the beach and thought "it's just not worth it" is incredible. But, the beach is an awesome place to spend the day. You just need to set yourselves up properly to enjoy it.
Here are our picks of the latest and greatest beach related products so that you too can enjoy your day by the waves.
You can spot the parents at the beach a mile away. They're the ones lugging all the gear, plus a child under each arm (the sands hot on their feet don't cha know!) to the chosen location.
From there, you'll observe them trying to supervise kids while swearing at the goddam beach tent which they bought because it was meant to be super easy to put up and in practice, is anything but. The tent's flying everywhere, the kids are like magnets to the water and you can almost lip-read the swears.
Once the bloody thing is up, the entire family will try and cram into the tiny tent, attempting to stay safe from the sun but effectively resigning themselves to a sauna-like experience.
I too was one of those families. I swear to god last time it took me 25 minutes of swearing, yelling and sweating to try and fold the damn thing back into the bag. I gave up and just carried the tent back to the car. I actually spotted a sombrilla on the beach over the weekend and knew I had to do some internet hunting when I got home. I sat in my traditional tent, getting more and more annoyed at the sides blowing in and looked on in jealousy at these people, comfortable and enjoying the beach.