A leading Australian dermatologist has weighed in on the validity of Brisbane mum Connie-Lee Swadling's viral Facebook post on choosing the right sunscreen.
The post, which was shared more than 14,000 times, has since been deleted, but Connie-Lee posted it after being given advice from her dermatologist that she felt compelled to share.
The dermatologist advised her to ignore the SPF rating on popular sunscreens and instead study the ingredients.
"I've recently had a mole checked, everything is fine but he asked what sunscreen I used," Connie-Lee wrote.
"I replied with the banana boat spf 50+ spray on for myself and banana boat sensitive spf 50+ roll on for my kids. He replied with shaking his head (sic)!"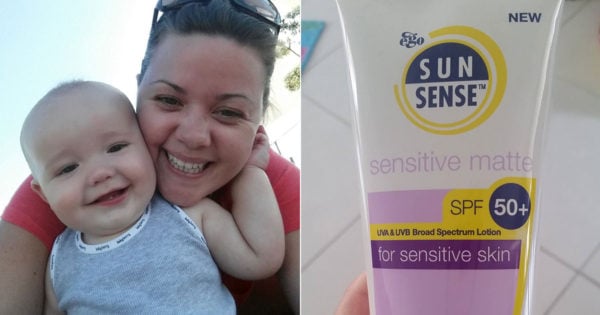 Her dermatologist then told her to "ignore the 30, 40, 50 + on the front" because it's not the most important factor in determining the effectiveness of sun protection.
"My mouth dropped as this is what we are all taught to look for!" she shared.
"He then proceeded to notify me of the ingredients on the back and said for it to actually protect your skin it needs to have titanium and zinc in it (both of which can not turn into spray form so they never leave the can to protect your skin when applying the spray sunscreen.)"
But Associate Professor Rosemary Nixon, from the Australasian College of Dermatologists, told Mamamia that the most effective products on the market have a combination of both physical and chemical sunscreens.