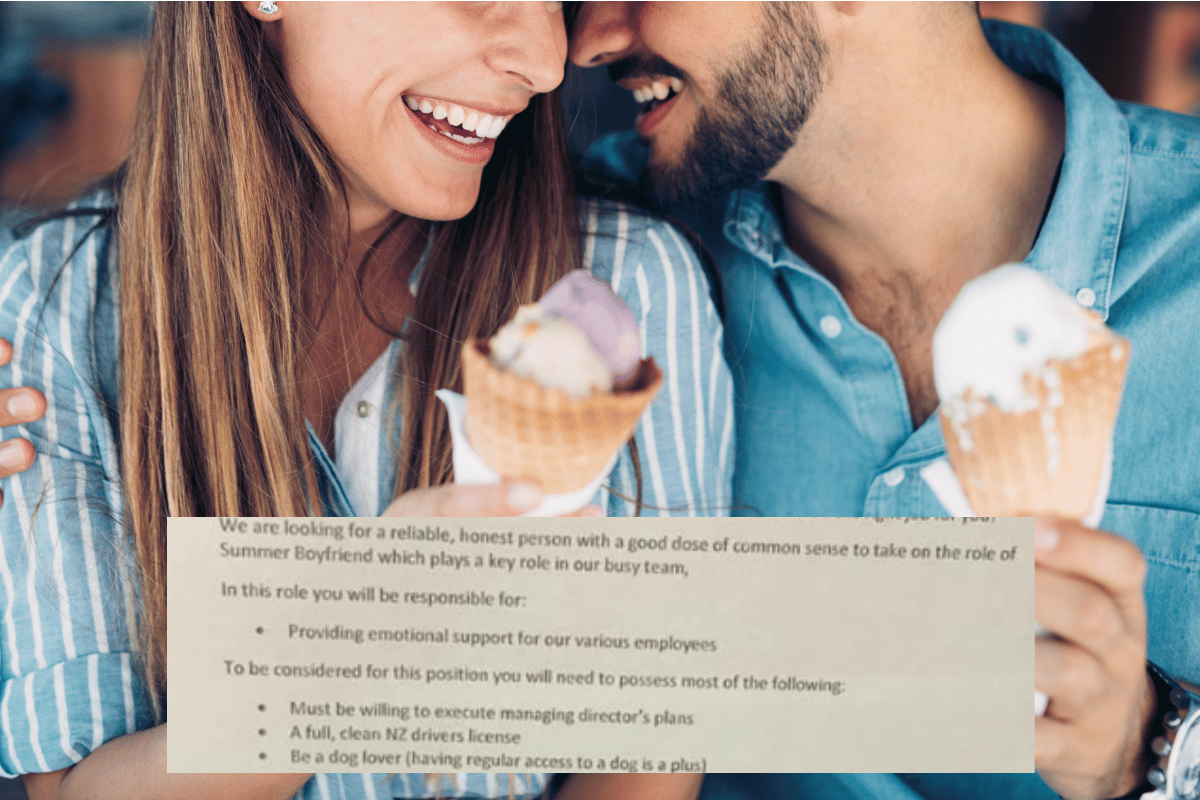 With classes finishing up and summer just weeks away, advertisements for summer jobs are taking over university halls.
You could work in retail or hospitality, maybe pick fruit… or, uh, if you fit some very specific criteria, you could take on a job as a summer boyfriend.
An advertisement seeking a 'summer boyfriend' has been posted on a noticeboard at New Zealand's University of Auckland, supposedly by the absolutely 100% real company $ugardaddyapplications Ltd.
Righto.
"If you're looking to make a positive change in your work life, have loads of energy, are physically strong and capable and possess excellent time management skills, then this could be the right job for you!" the poster reads.
Sounds pretty good so far, no? Plus, there's only one listed job responsibility: "Providing emotional support for our various employees."
So if you know a man who is good at giving hugs or doesn't mind impromptu trips to the shop for ice cream, he might be in with a shot.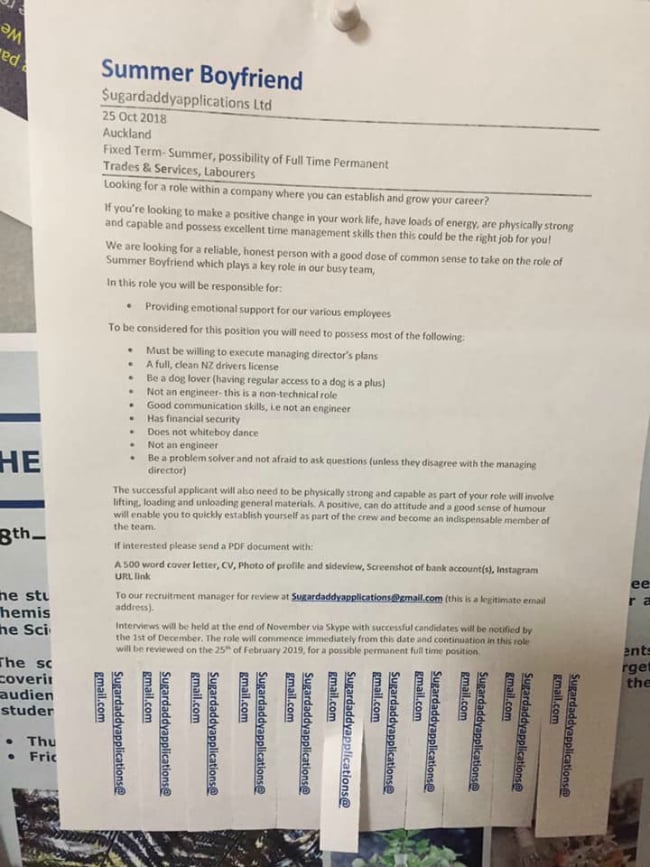 But don't get him too excited... There's quite a few other criteria he needs to meet before the job is his:
"Must be willing to execute managing director's plans."
Sure, makes sense.
"A full, clean driver's licence."
So he can drive to the shop to get the ice cream, obvs.
"Be a dog lover (having regular access to a dog is a plus)."
This should be a requirement for every job tbh.
"Not an engineer - this is a non-technical role."
"Good communication skills, i.e not an engineer."
"Not an engineer."
Okay... I'm not sure... It's not that clear... but maybe engineers are out? ¯\_(ツ)_/¯
"Has financial security."
How else would he buy the ice cream?
"Does not whiteboy dance."
110% fair enough. This also rules out all the men in my family.
"Be a problem solver and not afraid to ask questions (unless they disagree with the managing director)."
Everyone loves a confident problem solver who also knows his place.
Alright. So. If you know a man who ticks all these (totally legit) boxes, he can email a 500-word cover letter, CV, profile and side-view photos, a screenshot of his bank accounts (definitely safe...) and his Instagram profile to $ugardaddyapplication's recruitment manager.
A picture of the bizarre job opportunity was posted to the Overheard @ University of Auckland Facebook page, and judging by the response any applicants will be up against a lot of competition.
But at the time the photo was taken, none of the tabs at the bottom of the notice had been ripped off so hey, if you know anyone... They're probably still in with a chance.