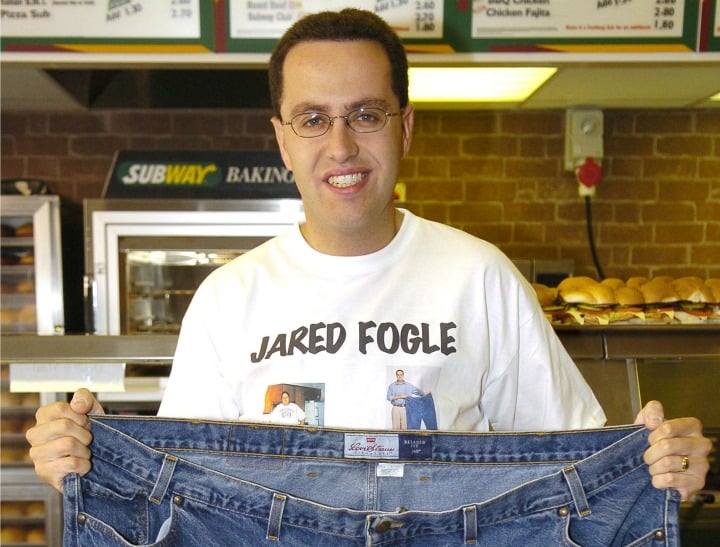 UPDATE:
Jason Fogle aka "Mr Subway" has found himself in another pickle as more information has been released about his child pornography charges.
Text messages between the former Subway spokesman and a former female Subway franchisee (who has asked to remain anonymous) have been subpoenaed by the FBI in an affidavit, Business Insider Australia reports.
In the text messages, Fogle reportedly says he paid for sex with a 16-year-old girl and asked the Subway franchisee to advertise herself on Craigslist for sex with other men.
The Subway spokesman asked the woman if he would watch the sexual acts and informed her that she could make around $US500 per act.
The former franchisee alerted her concerns and the texts to Subway management at the time but Subway did nothing, her lawyer says. Subway claims to have no record of this.
The messages in the affidavit, which were given to a court reporter in 2008 and were verified by a public official, span from January – June 2008. A phone number in the document was also registered to Fogle.
Mamamia previously wrote:
Talk about a fall from grace…
You may know Jared Fogle as "that guy who lost weight by eating Subway."
Fogle, 37, rose to fame as the man who lost more than 110 kilograms by eating only Turkey and Veggie Subway sandwiches.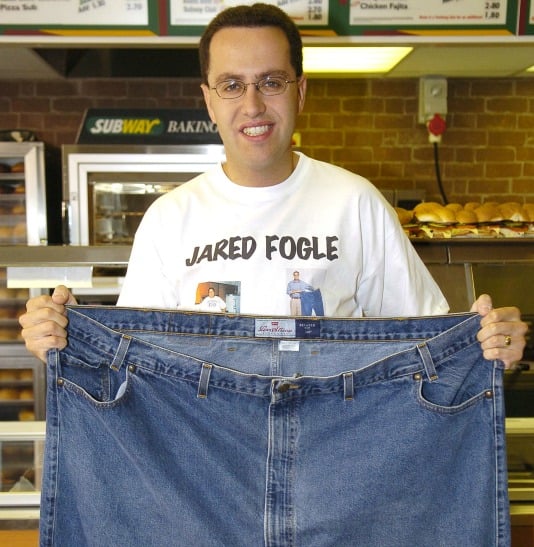 He quickly became the starring face of the company, featuring in 300 commercials over 17 years — boosting the idea that Subway was the "healthy man's" fast food.
This all came crashing down yesterday when Jared was snapped exiting a police van outside his home in Indiana.
A statement relased by Subway quickly revealed the investigation may relate to the arrest of a former executive director of Jared's foundation who was arrested on federal child pornography charges two months ago.
"We are shocked about the news and believe it is related to prior investigation of a former Jared Foundation employee," Subway wrote on its Facebook page.
"We are very concerned and will be monitoring the situation closely. We don't have any more details at this point."
While Subway did not confirm the identity of the former Jared Foundation employee, Associated Press suggests it is former executive director Russell Taylor.
In May this year, Taylor, 43, was charged with seven counts of producing child porn, and one count of possession.
According to The Indianapolis Star, the Foundation was mentioned in "file names" found on two USB drives owned by Taylor, which also possessed child porn.
The Jared Foundation aims to tackle childhood obesity in the United States.
On Tuesday, Associated Press revealed the FBI and local authorities had searched Fogle's home, removing electronics from the property.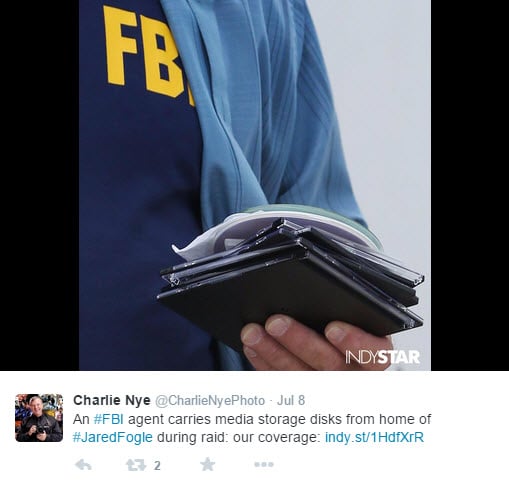 While no charges have been laid against Fogle, it didn't take long for Subway to cut ties with its favourite ambassador.
"Subway and Jared Fogle have mutually agreed to suspend their relationship due to the current investigation," it announced.
"Jared continues to cooperate with authorities and he expects no actions to be forthcoming. Both Jared and Subway agree that this was the appropriate step to take."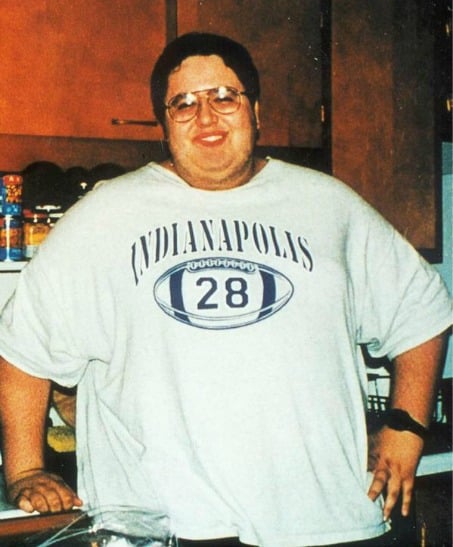 Fogle's lawyer, Ron Elberger, has told media his client was assisting police.
"Jared has been cooperating, and continues to cooperate, with law enforcement in their investigation of unspecified charges and looks forward to its conclusion," his attorney wrote in an email to The Indianapolis Star.
"He has not been detained, arrested or charged with any crime or offense."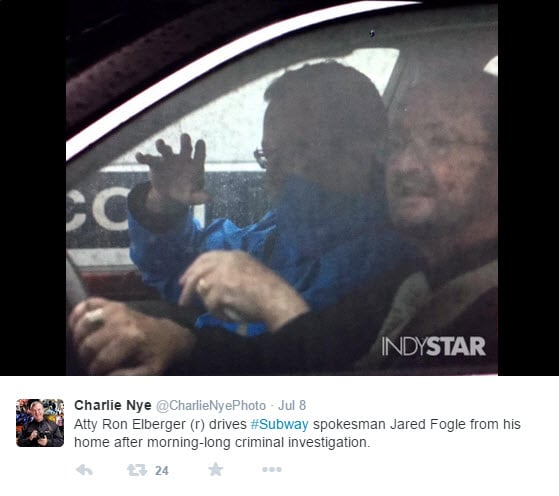 Jared lives with his wife in Zionsville, Indiana. His net worth is estimated by Celebritynetworth.com to be $15 million.
Do you have a news tip? Email us at [email protected]
Related content:

Diet mogul Sarah Wilson is making $4m a year from quitting sugar.

The new food pyramid will probably make you feel bad.

JLo's celebrity diet plan might just be the dumbest of all time.