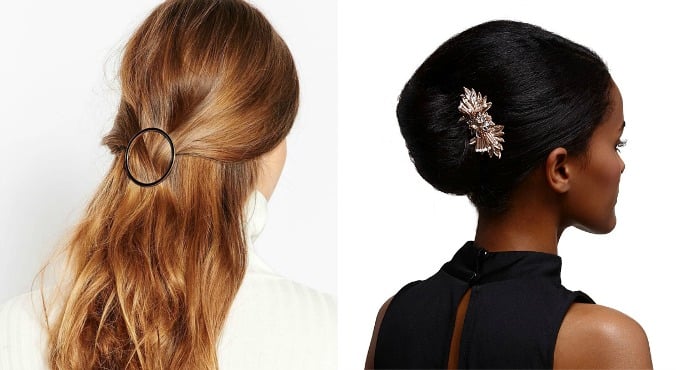 Image: ASOS, Mimco
Ahh, butterfly clips. Remember those? Along with giant patterned hair slides, they were the only hair accessory to be seen wearing at discos. Then adulthood came, and we were reduced to the odd camouflaged bobby pin. Until now.
Yes, while they've certainly come a long way from the plastic fantastic styles of our childhood, the ultimate '90s accessory is set to make a comeback. It's been spotted on the runway here and the red carpet there over the last few years, but we're calling it: 2016 will be the year of the humble hair clip.
Don't be fooled, though — the new modern, sleek and stylish designs mean it's actually possible to wear them without looking like a six year old.
The resurgence can be attributed to Celine's S/S 2015 show, which saw creative director Phoebe Philo send models down the runway wearing half-up 'dos secured with circular clips. Then, Kristen Bell stepped out to an event rocking a (literally) star-studded clip in her wavy hair
But we really started to take notice when Emma Watson attended a premiere with haphazard slides out on display… on purpose.
Watch: The Glow team trial the straightening brush everyone is talking about. (Post continues after video.)
Then just last week, Khloe Kardashian did the same, making a bold statement with a whole packet of bobby pins (seriously, who manages to find that many at once?) to accessorise her sleek ponytail for her appearance on The Tonight Show with Jimmy Fallon.
While they may be more decoration than actually serve a purpose, we're welcoming the trend with open arms.
The look doesn't have to be restricted to the evening, either — minimalist designs work just as well with simple hairstyles styles for day as an alternative to a hair tie or that little extra flourish as you would a piece of jewellery.
And, if we're being honest, after being brought up on a childhood of neon and glitter what's a little bling in the daytime anyway? (Post continues after gallery.)