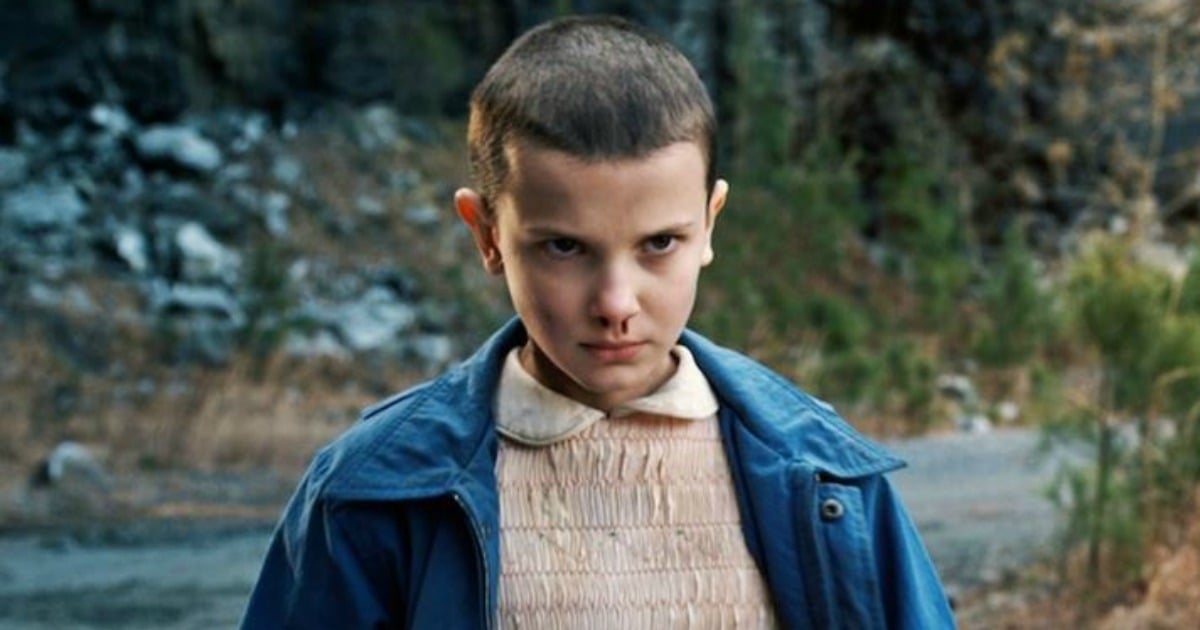 If you're one of those, maybe 10 people in the world who hasn't watched Stranger Things, then do yourself a favor and get on it.
It's one of the rare shows that is actually worth the hype.
Netflix's 80's style science fiction drama is everything you want it to be and a lot of the credit goes to 12-year-old breakout star Millie Bobby Brown.
Brown plays the fantastically mysterious Eleven, a girl with supernatural powers, who helps a group of boys search for their missing friend (among other things).
And while Brown is an amazing actress, there's not doubt that Eleven's hair, or lack there of, plays a huge part in conveying the creepy mystery that surrounds her.
On Sunday, Brown tweeted a time lapse video of the day she had her long brown hair shaved off along with the caption, "Here it is!! The video of me getting my hair shaved for #StrangerThings. Enjoy!???????? #buzzed."
And as if you thought it wasn't possible to love her anymore, think again because she set the video to Beyoncé's "Pretty Hurts".
The video starts with Stranger Things hair stylist Sarah Hindsgaul putting Brown's hair up in tiny ponytails and then carefully cutting them off one by one.
She then removes the ponytails and grabs the buzzer.
Before you now it Brown goes from this:
To this:
Brown told
Vulture
in July that shaving her head wasn't that big of a deal for her.
"I had very long hair and I cut it all off for the part," she said. "I read the script and I was so happy with my character and I thought, 'This is how it's gotta be.'"
Her family on the other hand, did not take it as well.
"My mom and my grandpa were like, 'No, you can't do that,'" she continued. "It took me 12 years — well, 11 years — to grow something.
"[My hair] wasn't thick, but it was long. And then they shaved it all off and it was very hard for my parents. But I convinced them. I was like, 'Dude, it grows back. It's fine.'"
Series creators Matt and Ross Duffer confirmed to 
Entertainment Weekly
that Brown took surprisingly little convincing.
"Mad Max: Fury Road was about to come out, so we pulled out a magazine photograph of Charlize Theron as Furiosa and showed it to Millie," the brothers said. "[We asked] 'Charlize looks totally badass, right?' Millie agreed; Charlize looked badass. And that was it: She agreed to buzz it all off."
On the day of the cut, the Duffers say the cut, though dramatic, was relatively quick.
"Within 10 minutes we had shaved it all off and slapped a fake '11' tattoo on Millie's wrist," they explained. "Millie looked at herself in the mirror, gave her best Furiosa scream — and Eleven was born."
Brown told IndieWire, "It was the best decision I've ever, ever made."
Though Stranger Things season two hasn't officially been announced, Netflix chief executive Reed Hastings said they'd be "dumb not to" renew it for a second season. So, Brown better keep those clippers handy.
Stranger Things season one, is currently streaming on Netflix.