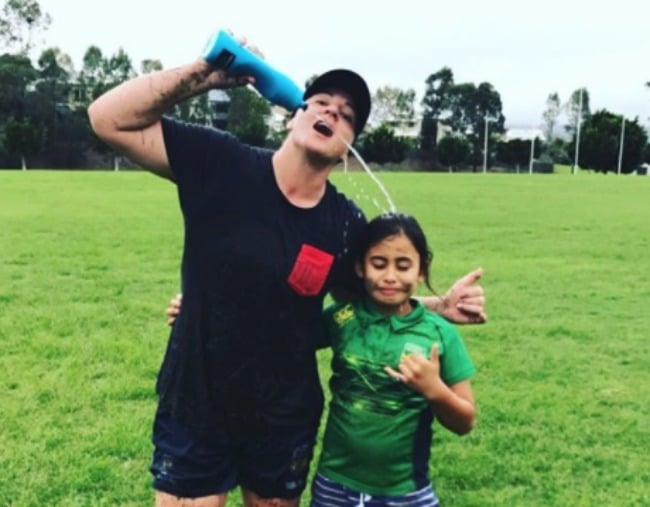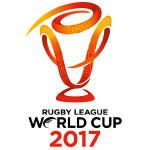 Steph Hancock chats to me over the phone, as she drives home from an eight-hour shift as a police officer. She was up early, having finished work by just after 2pm.
She's heading home, she tells me, not to put her feet up, but to throw her stuff in a bag and head back out the door. She's off to the gym.
Because when you work full time and juggle a professional sporting career on the side, your feet are only up when they're sleeping. And when you're sleeping? Well, you're invariably woken early, or in bed late. After all, there are World Cups to train for and bills that need to be paid.
So is the life of a female athlete.
Hancock is 35, a professional Australian rugby league player, a police officer and a mum-of-one. (Yeah, that too.)
The Jillaroos leadership group member's schedule is hectic, demanding and time-consuming. For as talented as she is on the field, and in her line of work, her greatest strength is arguably her ability to manage her time.
Remarkably, she's juggled – with graceful-like precision – both balls in the air for more than 10 years. She tells Mamamia her jobs, both on and off the field, have been made that much easier the further women's sport, and women's rugby league, has come.
"From where I started [in 2003] to where I am now – you can't compare it," she tells us, with obvious pride. "It's everything. It's from being treated equally to the funding."
Hancock recalls playing in New Zealand at one point, where the combination of flights, accommodation and competition fees meant each player was lumped with a $5000 bill.
"Even when the World Cup was in Australia, my dad [Rohan Hancock, former Australian Rugby League player] sponsored us, but we still had to pay $2000-$3000 each.
"Now, we don't pay for anything and we are treated like royalty."
Hancock's first foray into the sport happened when she was a very young junior.
"I started playing footy when I was a junior, but when I turned nine I wasn't allowed to play under 10s," she recalls. "I was the first girl to play football to play in my area, and it was because they asked my dad if her knew anyone who could play because they were short on numbers.
"And he said, 'Well, my daughter can have a run'. Mum plaited my hair, and I put a helmet on."
The helmet, a young Hancock would soon realise, was a blessing in disguise. No-one could tell she was a girl. In fact, it wouldn't be until the end of the game when she took it off, that they would realise.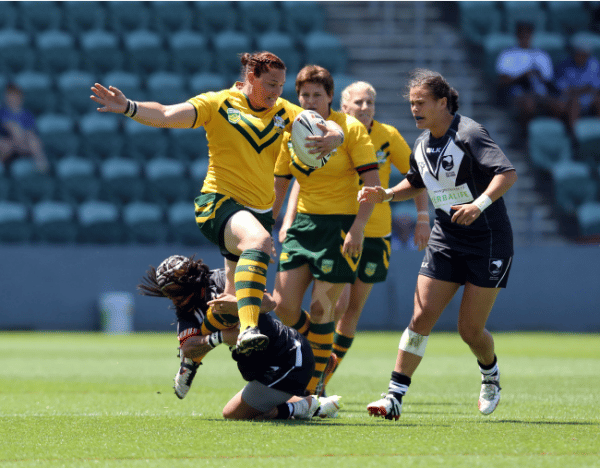 "Little blokes would then look at me, not because I was a girl, but because they had respect for me."
Fast forward 11 or so years later, and Hancock got the urge to play footy once again. Her hiatus had been lengthy, but she was ready to play.
It was 2003, and her local town of Killarney in Queensland, of which the population was about 900 people, needed to raise some funds.
"We needed some money - I think it was a drought at the time - so we organised a women's match. So many people came to watch, and it worked out so well," she says.
They raised somewhere around $10,000, and they decided to combine the teams to get playing, giving women's rugby league a little bit of momentum.
And then, well, her rise to the national spotlight happened with fire-cracking pace. Scouts recognised her talent almost immediately, and so, she was put on the path to professional.
"I played four club games for the footy before I got picked up by the Australian team," she explains.
At 35, as well being a full-time athlete, a first-response police officer and a mother, Steph Hancock is also an NRL ambassador. It's a role she loves, namely, because it sends her out into the world, to talk to young girls about how far the game has come, and how much women's sport is appreciated compared to when she started.
"I love it because...I get to speak to the younger girls about where footy is heading," Steph says. "I mean, people used to sell their car to represent our country. In the early years, we would stay in scout halls without toilet paper."
It was only four years ago, in 2013, when the Jillaroos embarked on their very first World Cup without having to pay their own way to get there. It was then a year later, in November 2014, when they then became the first ever women's team to be paid for playing in a test match.
Although so much has changed, and her road to the top was littered with hurdles, no money and a remarkable lack of recognition for the skills she has, Steph Hancock doesn't resent the early years.
If anything, she's just stoked things are looking up for the women coming behind her.
"Honestly, all the hard yards are to get us to where we are now. I wouldn't change it. Of course, I would love to be 21 starting my career now. I am just unfortunate now that I am 35 and at the end of it," she says.
"I don't regret it or anything like that, I am so excited for the other guys. They will have extraordinary careers because of what of the others have done."
You can see the strong women from a mile away, they say. They're the ones with their arms outstretched, pulling other women up the ladder behind them.
At 35, and as she embarks on her fourth World Cup for Australia, it isn't just her sport and her career that Steph Hancock has to juggle.
She's balancing it all while standing at the very top of that ladder, arms out wide.
Who is the most inspiring woman in sport? Do you know someone kicking goals? Tell us below.
This content was created with thanks to our brand partner, Rugby League World Cup 2017.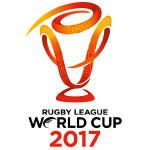 In 2017, the best players and teams from around the world will descend on Australia, New Zealand and Papua New Guinea for the Rugby League World Cup. The men's tournament will see 14 teams play 28 games over five weeks from 27 October until 2 December 2017. The women's tournament will see 6 teams play 12 matches over three weeks from 16 November until 2 December 2017. For the first time in the sport's history the two world cup winners will be crowned on the same day at Brisbane stadium. Tickets are on sale now from RLWC2017.com.