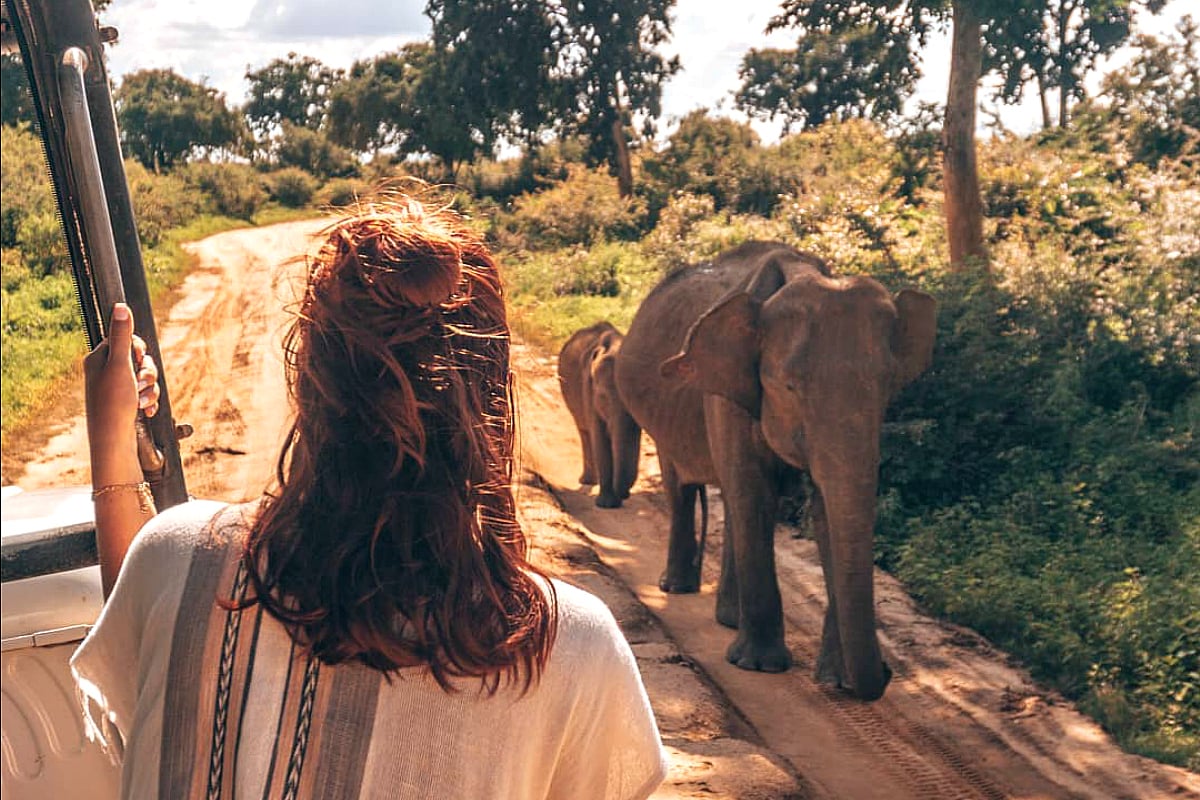 Is it just me or is everyone you know in or going to Sri Lanka?
Since Lonely Planet named Sri Lanka as the best country to visit in 2019, beautiful people holidaying in beautiful spots in Sri Lanka is all I can see on my feed.
The south Asian country, which up until just under 10 years ago was plagued by civil war, has seen tourism numbers skyrocket from as low as 447,890 in 2009 to 2.1 million in 2018, The Guardian reports. Thanks to updates made to Sri Lanka's photogenic railway system, it's now easier than ever to get around and see much of the country – particularly in the north – that wasn't always safe for tourists to visit.
When I asked some of my colleagues who've already been to Sri Lanka (lucky things!) why they loved it so much, it was impossible for them to narrow it down to just one thing.
One co-worker Lauren's parents just got back from their Sri Lanka holiday. "They loved it, they said it was really beautiful & the people were incredibly hospitable," she said.
Another, Andi, said if she had to pick a highlight, it would be Minneriya National Park.
"Best thing I did was go to Minneriya National Park, we did an open top jeep elephant safari, we were literally surrounded by hundreds of elephants," she said.
"We also did a cooking class which was awesome, had high tea and played croquet at a colonial hotel in Colombo, went to an elephant orphanage and the Temple of the Sacred Tooth Relic… I cried when we left."
For the entire holidays, I watched another colleague Rachel have what looked to be an incredible time travelling in Sri Lanka.
"The food was amazing, the people were so warm and welcoming and the place was incredibly diverse. One minute we're climbing 1000 stairs to see a rock fortress built in the fifth century, next minute we're flying down white water rapids in the middle of the jungle. It was incredible," she told me, just to rub things in that little bit further.
According to Lonely Planet, Sri Lanka now has "more than ever for families, adrenaline junkies, eco-tourists, wellness seekers and foodies of all budgets." It's also a place that pretty much nails the holiday balance of being able to relax and 'do' things.
Other unmissable attractions listed by Lonely Planet include (safely) sunning on Tangalla's beaches, the ruins of Anuradhapura, travelling through the Ella Gap via train, the town of Kandy, Sigiriya Rock and wandering around the Unesco World Heritage Site city of Galle.
Because Instagram has become one of the very best places to research travel destinations, here are 24 stunning photos from travellers that prove exactly why Sri Lanka is the place to travel in 2019.