When Claudine and Dave Fitzgibbon learned their unborn son had Spina Bifida, it was a heartbreak beyond what most couples will ever endure.
For it wasn't the first time they'd heard a doctor utter those devastating words.
As will be told on tonight's episode of Australian Story, little Harvey was their third successive child to have been diagnosed with the incurable congenital condition.
The couple, who had given birth to a healthy girl two years earlier, had made the harrowing decision to terminate their first two pregnancies, rather than let their children suffer with the debilitating consequences. But once Harvey was conceived a revolution had occurred.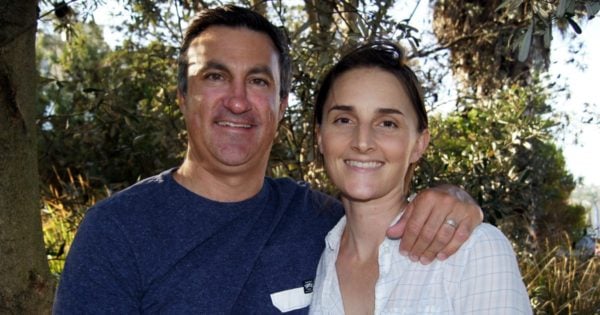 A team of surgeons at Brisbane's Mater Hospital performed the first in-utero surgery on a baby with Spina Bifida ever conducted in Australia.
The following month, on August 26, 2016, Claudine and Harvey would become part of the second.
The neo-natal surgeon at the helm of this incredible procedure was Dr Glenn Gardener.
Speaking to Mamamia ahead of tonight's program, the Brisbane-based doctor said the couple's case was not unusual, in that multiple SB-affected pregnancies do occur.
"But to have a third pregnancy affected despite doing all the right things, being very healthy and taking folic acid at a high dose, it was just tragic, really," he said. "There wasn't an identifiable genetic problem, and I think they felt that surely it couldn't happen again when they wanted to have another baby, and it did."
But within four weeks of meeting Dr Gardener, after rigorous assessment, counselling and consultation, they were offered what they had desperately been searching for: hope.