A truck driver in Western Australian has possibly presented police with one of the most awkward excuses for driving over the speed limit during the state's most recent long weekend.
The driver, who remains unnamed, was caught driving 37km over the speed limit in the regional town of Pithara, 260km from Perth, on Monday morning.
He was hit with an enormous fine of $1200 and lost 12 demerit points, as double demerits were in force as the state celebrated the Queen's Birthday long weekend.
While that may seem a hefty price to pay for speeding (although, that being said, we all know the dangers of exceeding the speed limit), it pales in comparison to the embarrassment the man surely faced while attempting to explain his actions to police.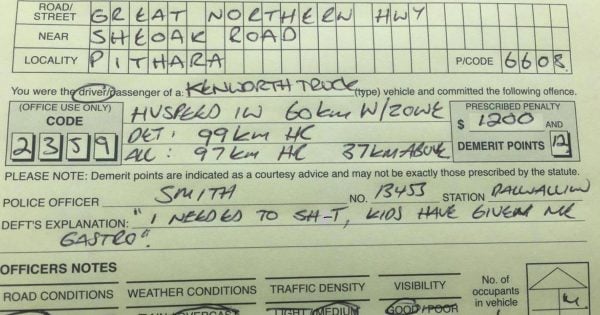 You see, the poor man was rushing to find a bathroom after catching a virus from his children.
"I needed to sh"t," his speeding ticket read.