Our guide, Ryan de Beer, loves surprises. As we travel along the bumpy dirt track in our open-top safari vehicle, he asks us to close our eyes. We obediently do as we are instructed. After what feels like several minutes the engine comes to a stop.
"OK, you can open them now," de Beer says.
As I do so, my mouth drops in awe. We are parked in the middle of a large, open field, amid a panoramic landscape of dozens of grazing zebras and buffalos. We sit and watch them silently for a while, before relocating to a nearby waterhole where the animals come to drink, flicking their tails and ears to shoo flies away.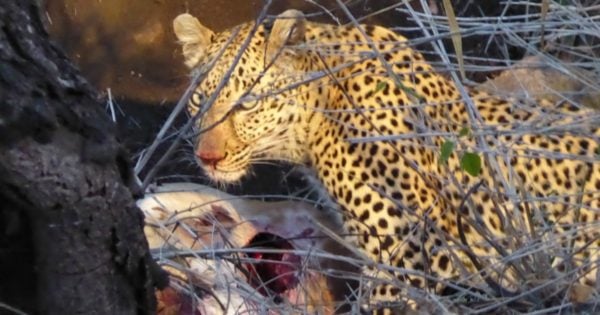 I love the sense of anticipation that comes with being on a safari; you never know what to expect next. Each morning and afternoon we set out from Earth Lodge in Sabi Sabi Private Game Reserve with de Beer and our Shangaan tracker Candy Hlatswayo, who sits in a seat at the front of the specially-modified vehicle.
Hlatswayo comes from a nearby village, as most of the lodge's staff do, and uses knowledge passed down from generation to generation to help us see the 'big five' animals tourists want to tick off their list: buffalo, elephant, lion, rhinoceros and leopard.
Sabi Sabi is a privately-owned 6,500ha reserve within Sabi Sands Game Reserve neighbouring Kruger National Park, which is the largest and most famous park in South Africa. When the fence between them was removed in 1993, it created a two million-hectare reserve in which animals can roam freely.