Sophie Cachia has shared photos of her post-baby tummy on Snapchat, urging mums to love their baby-makin' bodies.
The blogger, more commonly known as The Young Mummy, welcomed her second child, Florence Betty, into the world only two months ago and she admits that she's "carrying SO much more weight around [her] tummy post #2".
However, the 26-year-old mum says if she had to choose between a flat tummy and her daughter, she knows which one wins out every time.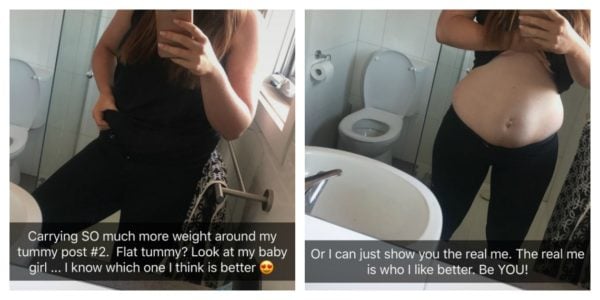 "Flat tummy? Look at my baby girl...I know which one I think is better," she wrote.
In a follow up Snapchat, the popular blogger lifted up her top to show her followers the real her and urged them to be themselves.
"Or I can just show you the real me. The real me is who I like better. BE YOU."
This isn't the first time the mum-of-two has shared a body positive message, just a month after giving birth to her daughter, Cachia posted a full length pic of herself in activewear. In the caption she told her followers that she was focusing on repairing her body rather than worrying about losing weight post-birth.