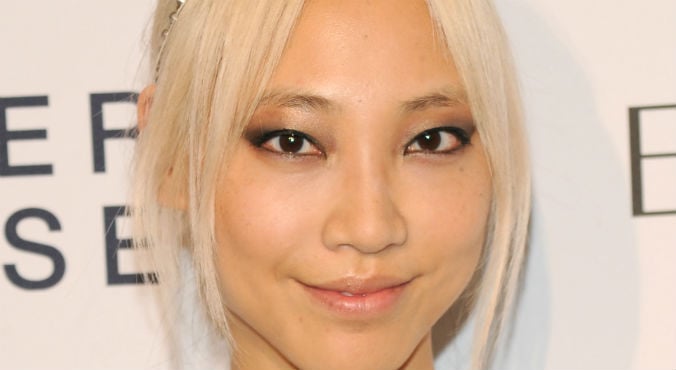 Image: Getty. Soo Joo Park doing her thing at an event this year.
Soo Joo Park was recently announced as the newest spokesmodel for L'Oreal. This is a groundbreaking move by the beauty mega-company, because for the first time in its 108-year history, it has named an Asian-American as one of its new "faces".
Related: Barbara Palvin reveals her makeup superpower – and the secret to perfect poached eggs.
Whenever L'Oreal makes a move, the beauty world takes notice. While you will know of the L'Oreal beauty brand from its presence in department stores, chemists and supermarkets, the larger L'Oreal Group owns several of the heavy-hitters in the beauty industry. Think of any of your favourite beauty brands, and it's likely that the L'Oreal Group owns it – there's Urban Decay, Lancome, Kiehl's, Giorgio Armani, Maybelline… the list goes in.
Any move or announcement by the L'Oreal beauty brand is a good indication of what's seriously important in the beauty world. As a woman of Asian ethnicity (I'm Australian-born Chinese), let me tell you why Soo Joo Park's signing to L'Oreal is meaningful to me. (Post continues after gallery.)
Soo Joo Park on Instagram
While shopping for makeup, whether on the high street or online, I rarely see an image of an Asian woman. And I shop for makeup a lot – at least once a week. It's my job, and hobby.
When an Asian person is included in a beauty brand's visual merchandising, it makes me feel visible and relevant.
Related: 21 cruelty-free Australian beauty brands  
If a beauty brand features models, but none are of Asian ethnicity, I wonder whether the brand can cater to my Asian-specific skin tone and needs. If a beauty brand never features an image of an Asian woman, it makes me question whether they believe that an Asian woman can be beautiful.
Related: 5 beauty counter hacks that will change your shopping experience.
This may come across as extreme and dramatic. However, when I rarely see images of Asian women, or women of colour, in ads or on local TV shows or anywhere, it starts to bother to me.
A few years ago, I was trying my hardest to "make it" as an actress. I was rarely asked to audition for the role of the friend, daughter or girlfriend. I mean, the Rafters of "Packed to the Rafters" (the biggest Aussie show at the time) didn't have an illegitimate, full-blooded Asian daughter, did they? When the only auditions I was getting were for Asian stir-fry sauce ads, it was all too clear that Asian faces weren't considered "mainstream".