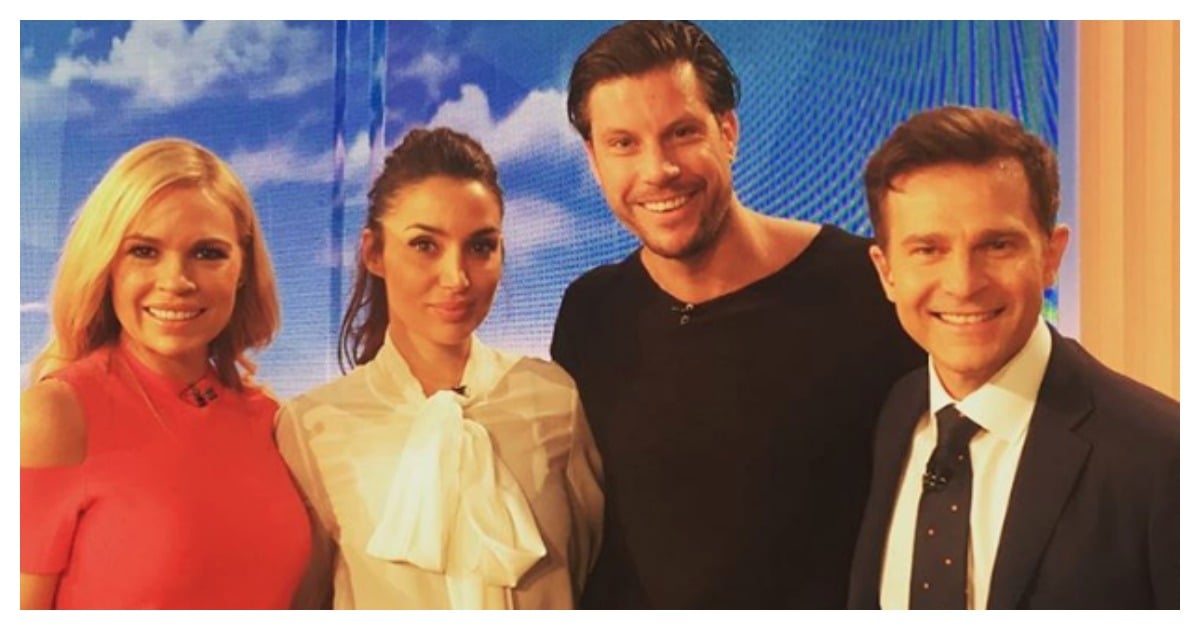 They may be engaged and planning a future involving a never ending weights circuit, but there are some things that even the strongest of relationships cannot take.
One of which is the ruffled blouse.
Taking to his Instagram account on Wednesday evening, former Bachelor and fitness guru Sam Wood posted a photo of fiancee Snezana Markoski and Jerry Seinfeld. A "who wore it better" type shot if you will; the accompanying caption reading "Can't take this girl anywhere #puffyshirt".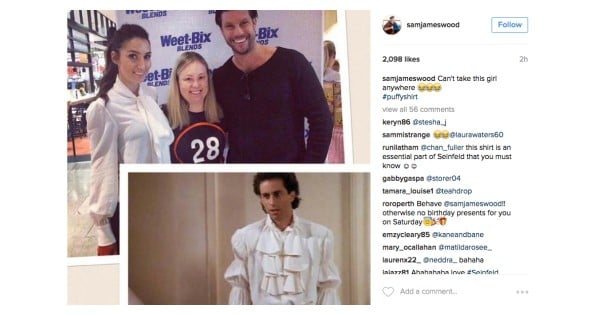 It's the puffy shirt! Source: Sam Wood / Instagram. 
For those unfamiliar, The Puffy Shirt is a famed episode of Seinfeld, in which Kramer is dating a fashion designer attempting to bring back a shirt resembling those "like the pirates used to wear."
Over dinner, Jerry is asked a question by Kramer's girlfriend but he can't hear what she said. Not wanting to be rude, he nods and smiles and says "yes."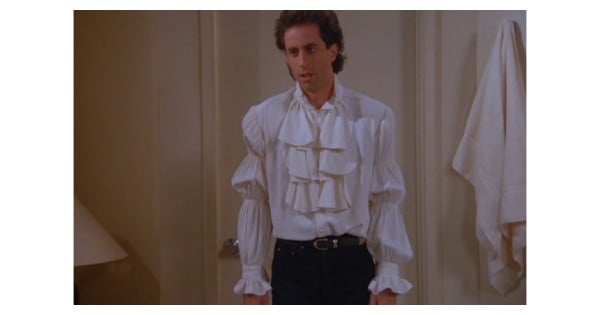 Sam's got a point... Source: Wikipedia.
Later on, it's revealed Jerry had agreed to wear the puffy shirt on The Today Show.
When he protests, Kramer says that he'll be a trendsetter, a fashion forward New Yorker. A pirate of the 20th century. To which Jerry replies, "but I don't want to be a pirate!"
Sam and Snez get engaged! Post continues... 
Now while Snez's cream pussy bow blouse is ultimately more sophisticated and stylish than that of Jerry Seinfeld's, Sam's observation (and post) is pretty hilariously on point.
And it was a big day for the blouse, also making an appearance on Channel 9's Today Extra, where the loved up Melbourne-based couple discussed Sam's new fitness plan and diet program, 28 by Sam Wood.
While on the show, Snez took the time to clear up "the bathtub fiasco" that erupted late last year, when the mum-of-one shared a photo of herself and daughter Eve partaking in a coffee scrub selfie.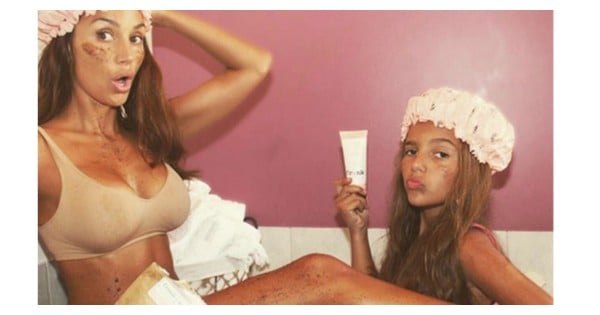 Snez and Eve get Frank. Source: Snezana Markoski / Instagram.
"I think that they thought she wasn't wearing anything. She's in a singlet, and she's making fun of people doing the... you know the whole duck lip thing? So she's actually pulling the mickey out of it, but I think people took it the wrong way," Snez explained calmy.
Live and let selfie, we say.