Comedy trio Skit Box have dropped a new show on ABC, Wham Bam Thank You Ma'am.
But this is not the first time these ladies made you laugh.
You remember Skit Box, right?
That activewear music video that took the internet by storm in 2015? THAT WAS THEM.
Now, this Aussie all-girl comedy group are ready to dish out their new offering. And it was well and truly worth the wait.
Listen to the girls from Skit Box speak about their new TV show with Rosie Waterland and Laura Brodnik on The Binge.
Their new show, Wham Bam Thank You Ma'am, is a sketch show turned on its head. It's outrageous. In the best way possible.
The show – described by the girls as an 'all-female sketch comedy' – takes a look at all sorts of feminine archetypes… and flips them.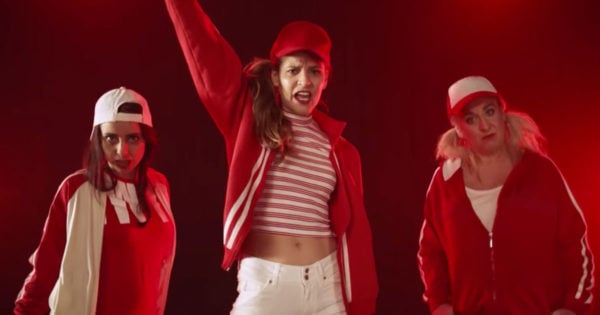 Skit Box are still riding the wave of their most recent hit: music mockumentary I Got That Flow.
Yeah guys. It's all about periods...
Watch 'I Got That Flow' below. Post continues...
The girls took Rosie Waterland and Laura Brodnik behind the scenes of the viral music video on The Binge...
"It was just the funniest thing... the male members of the crew... watching us sing this song about periods, and pouring blood on ourselves."
"We heard stories later that they said to each other, 'What the hell have we gotten ourselves into?'"
'Wham Bam Thank You Ma'am' premiered December 7 at 9:30pm on ABC2.
 Listen to this week's full episode of The Binge here...