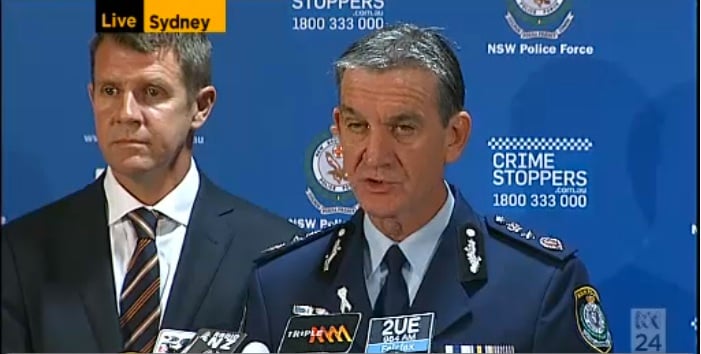 Update:
The Department of Foreign Affairs and Trade in Canberra has been evacuated amid reports of a "suspicious package".
Fairfax Media reports ACT Police is investigating the suspicious package which was located in the canteen this afternoon.
"About 1.45pm, ACT Policing received the report of the suspicious package at DFAT on John McEwen Crescent," police said.
"ACT Policing provided a coordinated response and cordoned the area as a standard safety precaution."
"Evacuations are underway at DFAT and road closures implemented.Members of the AFP Bomb Response Team are in attendance."
1. Sydney Siege
Police have stormed the Sydney Lindt Café where a 19-hour siege came to an end in the early hours of this morning.
A hail of bullet fire and gun grenades were used. Three people have died including the gunman, four have been injured.
The gunman has been named as Man Haron Manis. NSW Police Comm Andrew Scipione  said that police acted after they heard gunshots inside the building just before 2am.
Police have confirmed 17 hostages were inside the Cafe.
The Prime Minister has said that the National Security Committee of cabinet would meet early this morning. 
For more:
2. Teenager killed by shark attack