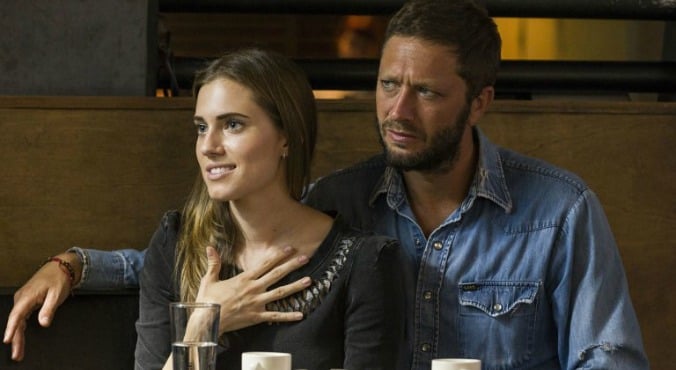 Image: The 'Girls' gang didn't really like Marnie's boyfriend Desi. (HBO)
"Are you free tonight? Sam* and I just broke up."
It sounds awful, but I was so happy when I got this message from my best friend Kate*. Okay, maybe not 'happy' — breakups suck and she was clearly distressed — so let's go with relieved.
Context: I had never liked her boyfriend Sam, which is kind of uncomfortable because they'd been dating for almost two years and the three of us had spent a lot of time together. But I'd just never warmed to him.
Before I was actually introduced to Sam, Kate had been talking for months about this interesting, handsome, witty guy she'd met through work. Their agencies had collaborated on some project and the two of them kept in touch via email and then Facebook when it came to an end. Eventually, they started going out for drinks and you can guess what happened next.
I tried to like Sam. I really, really did.
The first time I met him we all went out for dinner together and I made an effort to be open-minded and not fly into 'protective BFF' mode straight off the bat. I was friendly and polite and asked plenty of questions, but he was just… unkind.
He was incredibly pretentious and considered himself intellectually superior to the rest of the world, and every time he spoke to me there was a mocking undertone.
Watch: Mamamia staff debate whether cheating is emotional or physical. (Post continues after video.)
I could see Kate was enamored and he seemed to make her happy, though, so figured Sam and I just hadn't really clicked. That happens sometimes.
But fast forward a year or so and nothing had improved. I'd had Kate and Sam around to my house for dinner, gone on big group holidays with them, and joined them for countless games nights, movies and drinks.