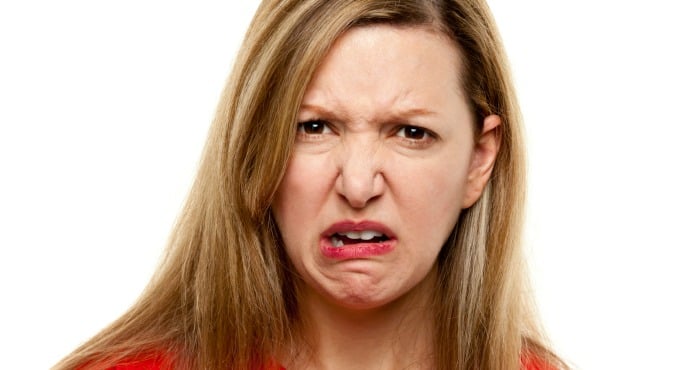 Image: iStock.
Think you're safe from poop particules if you wash your hands thoroughly after using the toilet?
Ha, that's cute. But unfortunately, you're wrong. So, so, incredibly wrong.
RELATED: This is how often you should be replacing your toothbrush.
Let's just get the bad news out of the way: if you share a bathroom with other people, there's a very good chance you brushed your teeth with your housemate's fecal bacteria this morning. Sorry about that.
A recent study found toothbrushes kept in dorm bathrooms shared among an average of nine students were basically covered in poop. Well, kind of — sixty per cent of the toothbrushes had fecal coliform bacteria on them, with an eighty per cent chance that bacteria came from someone else's... well, business.
They say sharing is caring, but this is pretty unsettling stuff.
RELATED: The 7 best ways to whiten your teeth at home.
If you're sitting there thinking, 'Well, I'm very clever because I keep my toothbrush in the drawer, so no toilet particules for me!', don't feel so smug, The method of storage made no discernible difference in these findings; neither did rinsing the brushes with cold water, hot water or mouthwash, or even using a toothbrush cover. (Post continues after gallery.)
Would you brush your teeth with charcoal?
"Using a toothbrush cover doesn't protect a toothbrush from bacterial growth, but actually creates an environment where bacteria are better suited to grow by keeping the bristles moist and not allowing the head of the toothbrush to dry out between uses," explained Lauren Aber, one of the researchers.
And here you were thinking you had this whole personal hygiene thing sorted.
RELATED: A dentist answers the 10 awkward questions we've all wanted to ask
While all of this information deserves a dry retch, there's also the matter of what has actually been expelled from your loved ones' — because it might so happen to upset your body.
"The main concern is not with the presence of your own fecal matter on your toothbrush, but rather when a toothbrush is contaminated with fecal matter from someone else, which contains bacteria, viruses or parasites that are not part of your normal flora," Aber said.