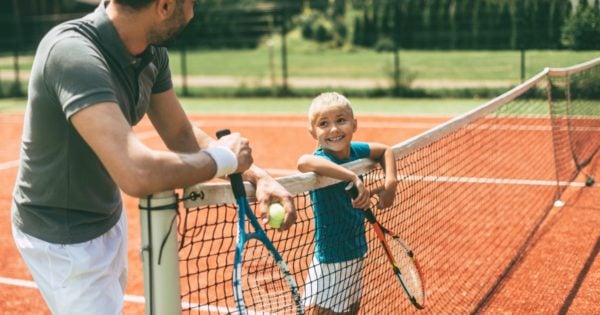 It's hard to select which sports program to enrol our kids in, the choices are endless but the time and money required isn't. I want something that is fun, social and teaches my kids valuable life skills.
After looking at the various options, the ANZ Tennis Hot Shots program is my pick of the bunch. Not only is tennis enjoyable and healthy, it teaches kids the importance of teamwork, and flexibility. It's also an inclusive sport with no age barrier. That means my kids can play it beyond their childhood years, we can play together as a family and one day, my little ones might find themselves returning serve to their own kids while I act as a geriatric ball girl.
Here are some of the many reasons I'll be enrolling my kids into the ANZ Tennis Hot Shots program.
1. It's fun and makes tennis easy to learn.
Most importantly, tennis is fun and ANZ Tennis Hot Shots makes it easy and enjoyable to learn. Lighter racquets, lower bouncing balls and smaller nets mean kids can play a real game of tennis from as young as five-years-old.
Specialised coaching methods and smaller courts are designed to suit the age, skills and needs of each child and focus on learning through play from the very beginning.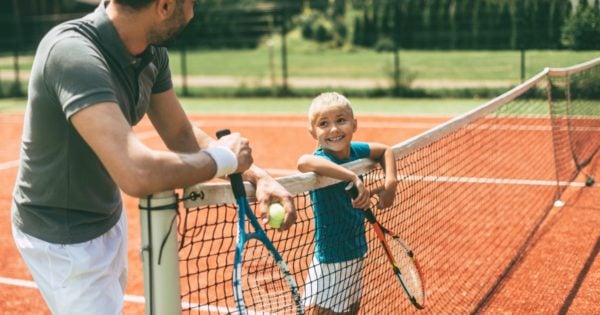 Specialised coaching methods and smaller courts mean a better experience for your kids. Image: iStock.
2. It encourages a healthy lifestyle.
In a world where we are more tuned into technology than ever before, it takes a concerted effort to keep healthy and fit. Playing tennis is an awesome workout and sets kids up for a lifetime of healthy habits.
Tennis improves hand-eye coordination and builds muscle strength, agility and flexibility while increasing reaction times. It's also a non-contact sport which means there is less chance of your child ending up with a pack of frozen peas on their forehead post practice.
3. It takes teamwork.
My husband grew up in a tennis mad family; there is even a tennis reserve named after his grandfather in a Victorian country town. When I asked him what he learned from all his years of playing tennis his first response was, "teamwork". A lot of people view tennis as a solitary sport but it's so much more than that.
The ANZ Tennis Hot Shots program teaches kids in groups based on their age and capability encouraging kids to make new friends as they gain new skills. Playing doubles requires a close partnership and communication between team mates and mixed doubles gives kids the opportunity to play with children of the opposite gender, which isn't possible with a lot of other sports.