With just days left of 2017, I've got a question for you. What's the single best decision you made this year?
Me? I don't even need thinking music. The best thing I did this year was join a social netball team.
Best. Thing. I. Did.
And the weird bit is that back in January, joining a netball team – in fact participating in any sport AT ALL for any reason – was not on the agenda.
But sometime in May an old school mum friend put the call out looking for a few new players for a team. And I said yes.
YES.
Yes before I had time to chicken out.
Yes before I came up with a dozen excuses why it was a stupid idea.
Yes before I, err, thought it through properly.
I mean I hadn't played for 15 years.
I could barely remember the rules other than 'offside' and 'no stepping'.
I didn't know many of the women on the team.
I was going to need a babysitter every week since my husband is forever on-call as an obstetrician.
And then there's the minor detail that I was unfit, out of shape and not in terrific health. (I'd been diagnosed with Dengue Fever in January!)
Seriously, what the hell, Rebecca Sparrow? Are you drunk? You playing netball is a TERRIBLE idea.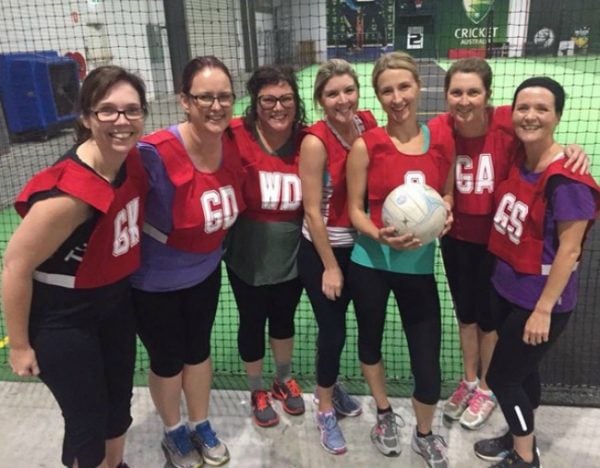 But that yes didn't budge. YES. I'M IN.
And I cannot tell you how glad I am that I did.
Putting on that bib each week and stepping out onto the court every Monday night has given me something I struggle to put into words.
It's given me a bit of myself back.
Because when I step through the nets and onto the court, no one is asking me for a cup of water or to fix a broken Lego toy or find swimming goggles. Because for 40 minutes a week I get to move my body, heart racing, sweat pouring off me as I run and leap and jump and try my best to keep up with the opposing Wing Attack (who so often looks about 12. They see me on court and their eyes light up because they're opposing Grandma).