Tonight's episode of The Project kicked off like any other. The panel – Carrie Bickmore, Peter Helliar, Waleed Aly and Mamamia founder and creative director, Mia Freedman discussed all manner of things happening in the world today.
After a more somber segment, where Bickmore interviewed the sister of Daniel O'Keefe – the Victoria man found behind a wall cavity in his house five years after he went missing – the team discussed the hashtag #distractinglysexy.
This hashtag went viral last year after women scientists fought back against comments made by Nobel Prize winner Tim Hunt, when he said there was a 'problem' with women scientists.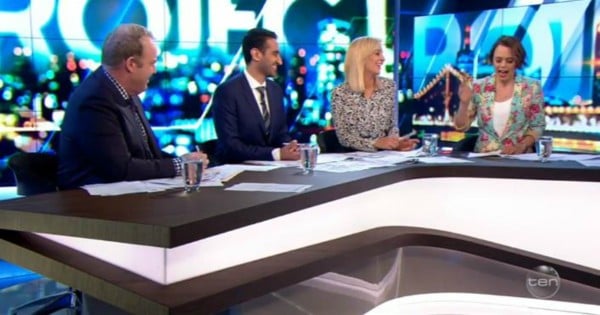 While on the subject, Bickmore cut in saying Waleed Aly's wife Dr. Susan Carland had texted her.
"Can I just say one thing? You said in that package how your wife is smarter than you, well she's actually texted us to let us know that you didn't know what a motor ..." Bickmore fumbled over her words for a second before concluding,"motorboard was."