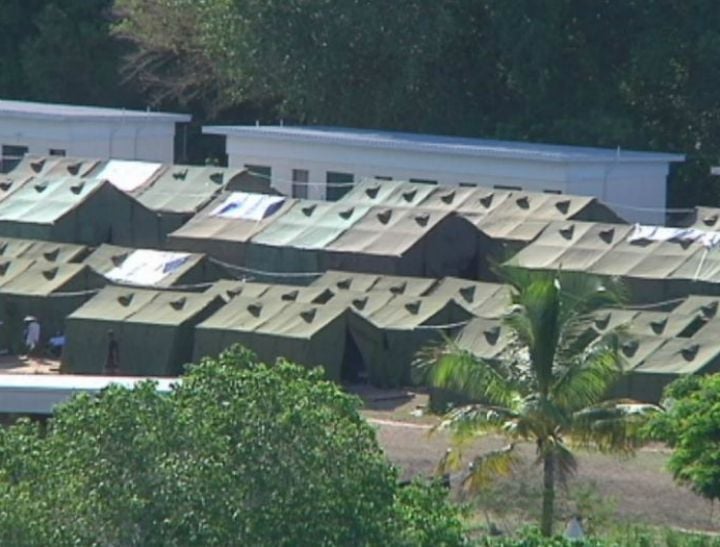 By HAYDEN COOPER
Two refugees are requesting help from Australia after reportedly being raped on Nauru, leaving one of them pregnant.
The ABC's 7.30 has obtained a harrowing video of the moment one of the victims was found by Nauruan police, several hours after the alleged assault occurred.
The footage was filmed in the dark by the 26-year-old Somali woman as she hid in the bushes late at night on August 21 after allegedly being raped by two Nauruan men.
In the video, the woman is heard weeping and calling for help as she phones Nauruan police.
"Please come help me," she pleads as sirens are heard in the background.
The woman, known as Najma (not her real name) has told the ABC she feels unsafe on Nauru.
"As a Somali girl, I was hoping to come to a safe place, but I have no safety," she said.
"As we walk to work, Nauruan men charge us five dollars to use the road, then they follow us and harass us or touch us."
Both the women live in the Nauruan community.
The attack is the latest in a string of sexual assaults on Nauru, both inside the immigration detention centre, and outside in the refugee community.
A recent Senate inquiry uncovered the number of assaults perpetrated on asylum-seekers on the island.
The company responsible for running the detention centre, Transfield Services, told senators it received 67 allegations of child abuse until May this year, 30 of them involving detention centre staff.
Daniel Webb, the director of legal advocacy at Melbourne's Human Rights Law Centre, said Australia should not be settling refugees in the Nauruan community.
"It's becoming clear that Nauru, both inside the detention centre and outside of it, is not a safe place for women and not a safe place for children," he said.
'Police took four hours to arrive'
In a police statement obtained by 7.30, the Somali woman said she was out walking near the Ewa settlement camp when she was dragged into the bushes by two Nauruan men and raped.
She said police took four hours to arrive, and she has heard no update since on the subsequent investigation.
The second woman said she was 10 weeks pregnant after also being raped.