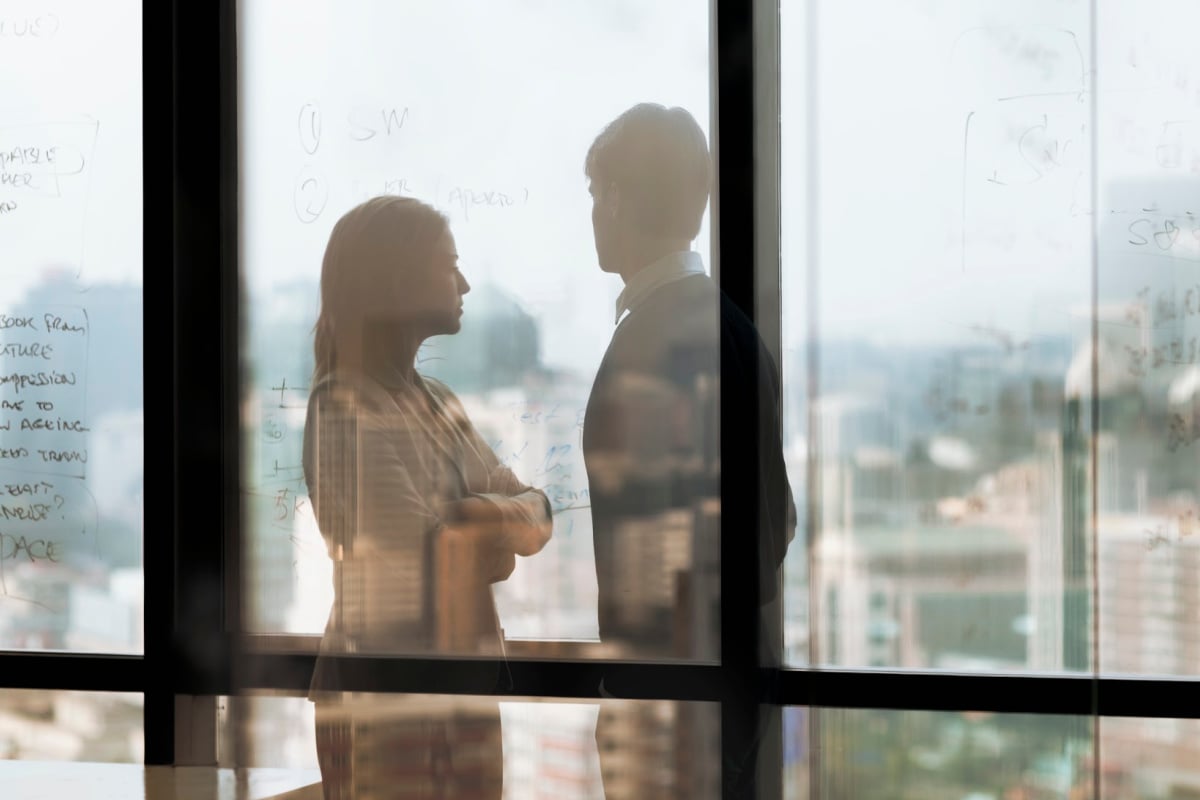 There's a reason workplaces have HR policies against relationships.
There are some people who are all for dating a co-worker; after all, we spend more time in the office than almost anywhere else.
Then there are some who sit firmly in the "don't shit where you eat" camp. I was fairly ambivalent about the whole workplace relationship thing, until it happened to me… Then? Well let's just say I had pretty strong opinions on it after that.
I first realised I had a teeny tiny crush on a guy from work when I fell over outside and split my knee open. When I'd limped up the stairs, thoroughly embarrassed, he'd been the only one to leap into action when he saw the steady stream of blood flowing down my leg.
As he mopped up my injury, I thought 'Hmm, this guy…' But almost instantly the thought was gone. At the time we both had long-term partners, so it wasn't really anything; just a fleeting sort of spark that barely lasted a second before I jumped back into the real world.
I didn't think about it for five years.
By then we'd both become pretty good friends, and after we counselled each other through the particularly painful breakdowns of our respective relationships, he admitted he'd fallen in love with me. And when I thought about it, I felt pretty dumb for not realising I'd fallen for him, too.
I was hesitant to start dating at first. What if it didn't work out? How would we continue to work together? But he assured me he was sure I was "it" for him, and he'd just been too stupid to realise it all these years. So we started seeing each other. Secretly, though. We didn't want anyone from work to know until we'd figured out exactly how serious we were.
Truth be told, we also had no idea what the HR policy was in terms of dating colleagues. But, during the Christmas party, he spontaneously jumped in on my karaoke rendition of REO Speedwagon's 'I Can't Fight This Feeling' (I chose it accidentally I swear, I just really love REO Speedwagon). Our spontaneous love ballad duet kind of gave us away.
We figured we should probably formally let our boss know, and went in for a meeting. His response was that as long as it didn't affect our work, it was okay.
And for a while it didn't.
But then came our first mini-break as a couple. We'd been together for about five months at this point and had decided to take a little trip interstate together. We'd already had whirlwind discussions about how "right" we felt together, and how everything made sense when we realised we'd been looking for each other all along. We'd even talked about marriage and kids. It felt like it was all meant to be, and our plans for the future were full speed ahead, so the idea of a holiday away seemed perfect.
For the first few days, it was. We ate at trendy cafes, saw theatre shows, took selfies with animals at the zoo… And then we had our first fight. It was quite big, but to be honest I couldn't even tell you what it was about. I just remember me crying, him acting cold, him lying that everything was fine when we went to introduce him to my extended family, us sleeping so far apart in our hotel bed that it felt like we were on opposite sides of the world. Then the next morning I awoke to, "I don't want to do this anymore."