What do you do when you've been together for more than 20 years, and the sex has dried up?
It's a dilemma many people in their 50s experience. Waning drive, coupled with daily exhaustion, tear-jerking boredom, stress, and even general disinterest, can result in a lacklustre love life.
We decided to consult psychosexual therapist and author Jacqueline Hellyer, to ask how mature aged women and men can reinvigorate things in the bedroom.
Her answer wasn't exactly what we expected. Actually, it blew our tiny little minds.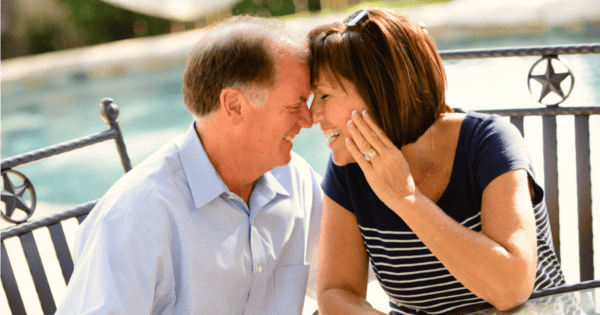 We've been thinking about sex all wrong, people. Actually, a lack of conventional "penis in vagina" sex isn't a huge issue as the world has led us to believe, Hellyer says.
"A big part of the problem, as I see it, is we have a very limited view of sex, and that view really only suits young people," the Great Sex After Kids author explained. "Many people see sex based on men's masturbatory style, it's all focused on the penis - how hard it can be, how much it can ejaculate - when that's really quite limiting."
If couples are getting tired of the "adolescent masturbatory approach" to sex once they've been together for over two decades, Hellyer says she really isn't surprised.
"Our model of sex might be okay when you meet someone and it's all terribly exciting, but it's bloody boring. So when mature couples stop having that boring style of sex, they tend to attribute that to the ageing process, when really it's got not much to do with ageing at all, it's just bloody boring.
"We need to change our definition of what sex is. All of our problems point to the fact that the model is the problem, not the people."
Got that? It's time couples stop defining their relationship by the number of times they have genital sex every week. Because really, that's not an indication of how your relationship is tracking at all.
Mind. Blown.