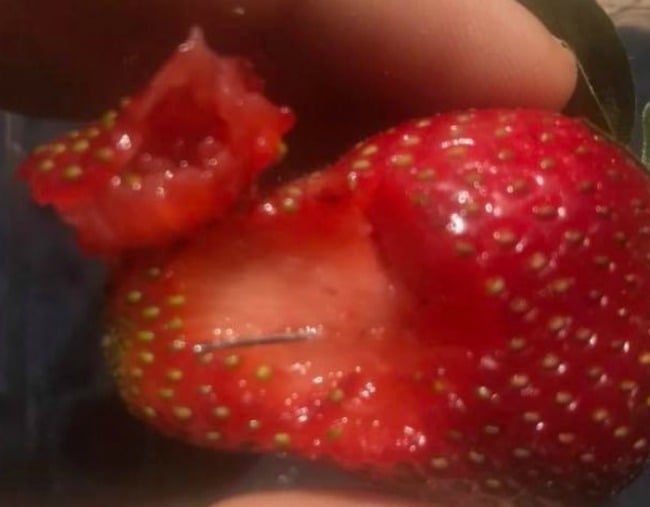 Sewing needles have been found in strawberries in all six states, leading New Zealand to pull the Australian-grown fruit from its supermarket shelves.
Police are investigating after the metal needles were found in punnets of fruit across the country, as nervous growers fear a multi-million dollar commercial sabotage.
Two contaminated punnets of Mal's Black Label strawberries have been found in separate towns outside Adelaide, with the latest in Morphett Vale.
"People need to slice their fruit prior to consumption and please contact police immediately if you find any contaminated fruit," SA Police said on Monday.
Queensland Strawberry Growers Association vice president Adrian Schultz said "commercial terrorism" was bringing an industry to its knees.
"I'm angry for all the associated people, it's the farmers, the people who supply them, the packaging people, the truckies with families to support, who suddenly lose their jobs … it's far-reaching," he said.
The Mal's Black Label strawberries were grown in Western Australia, where a man on Monday reported to the York Police Station in regional WA that he'd found a needle in a punnet of strawberries.
Federal Health Minister Greg Hunt has ordered Food Standards Australia New Zealand to investigate whether there are supply chain weaknesses or systemic changes needed.