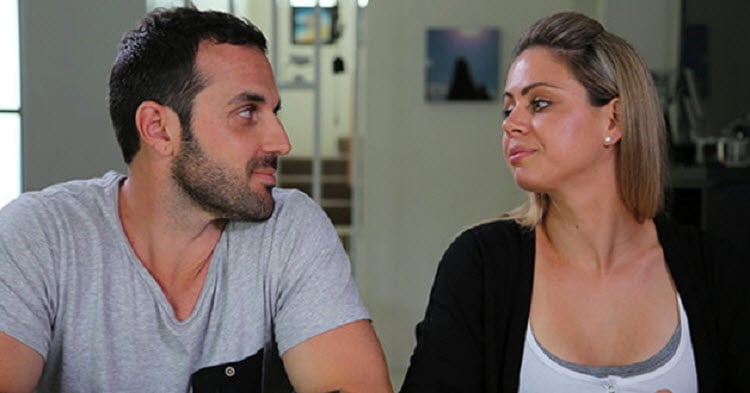 The couples of Seven Year Switch have been on a rough ride the last few months. Most notably, Cassie and Ryan. Despite having spent many years together and sharing a family, the pair were at their wits ends by the time the show rolled around, considering it to be their last chance.
"We were in such a fragile place when that experiment started," Cassie admitted on the reunion episode of the show, adding that watching the experiment back had "been difficult".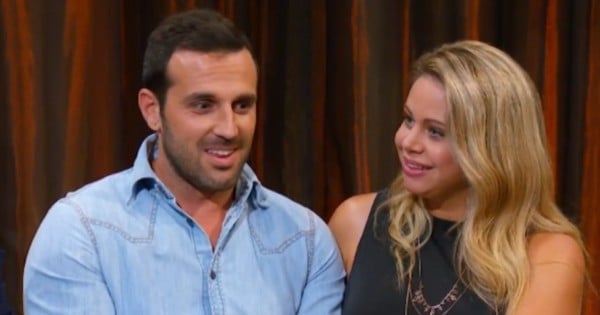 Cassie and Ryan on the reunion episode of Seven Year Switch. Image via Channel Seven. 
But despite the hard times, the pair appear to be closer than ever and finally confirmed they are expecting a baby together.
"We're expecting our fourth baby, we found out a couple of days before we started filming. We wanted to keep it quiet for the time being since we've had hardships through our pregnancies," Cassie said. "It's a scary process this pregnancy has gone so quickly, I don't even know if I'm ready yet. We're expecting another little girl."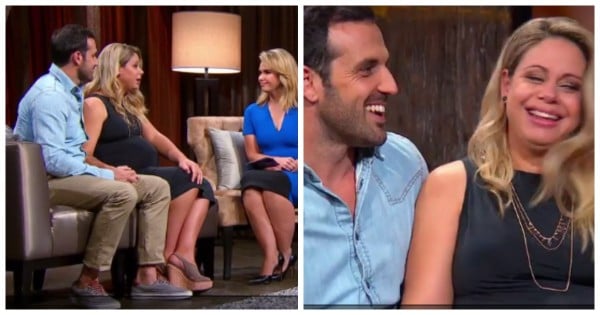 Cassie and Ryan on the reunion episode of Seven Year Switch. Image via Channel Seven. 
Now that the show is done and dusted, the pair have taken to Instagram to share a touching image of their family.
"Ry and I are expecting our 4th bub very soon!! I know this number confuses a lot of people (spesh journos!) because you only see two babes in this pic?!" the pair wrote.
"Here it is.. We have a son who is not with us. He may have passed away when we went into labour at 37.5 weeks and even though we didn't get to bring him home from hospital it doesn't make him any less of a human and he deserves recognition as our child too! Dex (our son) was perfect to the eye, seemingly healthy and his death is still unexplained," their caption continued.
"We didn't get many memories with Dex just a few short hours, and just because I'm not flashing up pictures of our son playing with his sisters it doesn't mean that this little boy is any less a part of our family. He is in our every thought. We speak about him everyday. He is a big part of our life, as is any other parents child past or present!
Dex was considered Stillborn. We had a funeral. He had a coffin and he has a birth and death certificate. He was REAL," they added.
"He was our first born son, my second child (Ryan's first) a little brother to my eldest and a big brother to little Em and our next little girl," Cassie and Ryan concluded.
On the show, Ryan confided in his experimental partner Michelle, telling how how his relationship problems with Cassie had largely stemmed from the loss of their son.
"Cass and I lost my first born son three years ago. He was stillborn. The majority of our problems started then... We're very open in how we talk about it," he said.
"You're so strong," Michelle replied.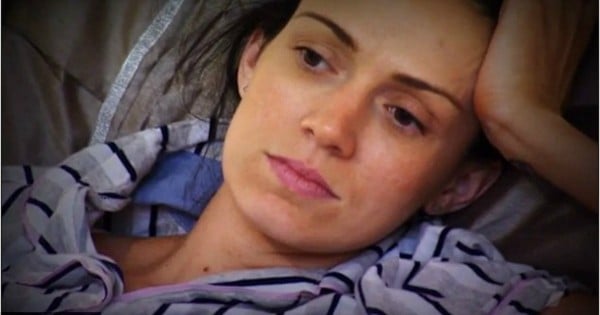 Michelle, Ryan's experimental partner on Seven Year Switch. Image via Channel Seven. 
"Well I haven't been, I haven't been. I really dropped the ball on my family. You know, I really did. What kind of man am I? In that process I've forgotten myself and I've forgotten Cass.
"I've forgotten her, she's just been pushed out of the picture completely. So the wheels have completely really fallen off for us," Ryan said, continuing: "My wife is the strongest person I've ever met. She's my hero that woman."
Cassie and Ryan on Seven Year Switch. Image via Channel Seven. 
Ryan and Cassie already have an 11-month-old daughter together, Emmerson, and Cassie is mother to nine-year-old Ramani from a previous relationship.
We're so happy to see it has worked out for the pair.
Watch a recap of the Seven Year Switch reunion below...