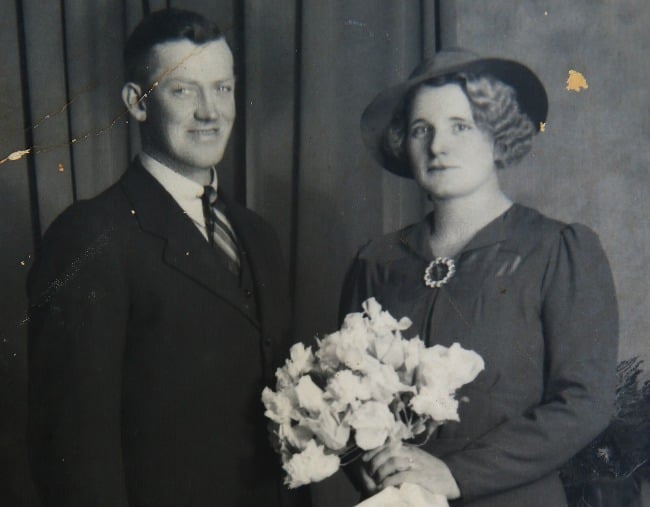 Dulcie Bodsworth was the unlikeliest serial killer. She was loved everywhere she went, and the townsfolk of Wilcannia, which she called home in the late 1950s, thought of her as kind and caring.
The officers at the local police station found Dulcie witty and charming, and looked forward to the scones and cakes she generously baked and delivered for their morning tea. That was one side of her. Only her daughter Hazel saw the real Dulcie. And what she saw terrified her.
Dulcie was in fact a cold, calculating killer who, by 1958, had put three men in their graves – one of them the father of her four children, Ted Baron – in one of the most infamous periods of the state's history. She would have got away with it all had it not been for Hazel.
The following piece is an extract from My Mother, A Serial Killer, written by award-winning journalist Janet Fife-Yeomans together with Hazel Baron:
Hazel Baron was nine when she first suspected her mother was a murderer.
Don't tell your dad about this. Don't tell your dad about that. Don't tell him about the sneaky hours in the dark on the big back seat of the family's American-built Nash car with young Harry, nineteen years her mother's junior. Harry was only supposed to be 'helping with the kids'. As a kid herself, Hazel did what she was told and never even considered telling on her mum. Dulcie was also quick with her right hand to dish out a slap or worse. In those days, no one questioned using corporal punishment to keep children in line.
Looking back, Hazel's suspicions should have been aroused on the night when her mother, Dulcie, then known as Hazel Dulcie Baron, gave the kids warm milk and Aspro tablets before bed. It was the first time in their lives that Hazel, her brother Allan, eight, and the five-year-old twins, Margaret and Jim, had been given warm milk to drink. Dulcie wasn't much of a mollycoddling mother, treating her four children more like mini grown-ups. But this had been a big day, she said, and the milk and Aspros would help them sleep.
Her attention made them all feel special for a change.
As the kids sat with their blankets around themselves, keeping warm by the campfire, Dulcie just pulled the cardigan she wore over her dress closer to her chest.
It was quiet and dark as she heated the milk in a pan over the burning logs, the only light the sparks flying up. The ribbons of smoke twisted into the air like ghost gums along the riverbanks.
Hazel could just make out the outlines of their two tents a few metres away at the edge of their camp.
Hazel already suspected that their family might not be quite normal but she really had nothing to  compare it with. Everyone had their secrets, didn't they?
The reason for the warm milk and Aspros was snoring on a stretcher bed near the tent flap. Wednesday, 30 August 1950, had been a big day because their dad, Ted Baron, forty-eight, had come home from hospital.
The once-powerful railway ganger, who had led teams of tough men doing hard graft across New South Wales and Victoria, was just a shadow of himself. He had arrived at camp that afternoon in a taxi from Mildura Base Hospital, over the Murray River Bridge and down to Buronga. Dulcie had been dutifully visiting him every day for the two weeks her husband was in Mildura Hospital and when he told her that he wanted to go home with her, she seemed suitably thrilled.
The kids had got used to their dad being in hospital and they surrounded him and walked him back to the camp. While they were happy to see him, their welcome couldn't rival that of Ted's dog, Toby, an Australian terrier, who threw himself at his master, whirling in circles at Ted's feet and whimpering with excitement.
Dulcie was kindness incarnate to her husband that afternoon, fussing over him and making sure he was comfortable, much to young Hazel's surprise. She gave Hazel and Allan some change and sent them to the corner shop at the end of the gravel road along the riverbank to get the milk and Aspros. Money was always tight and milk was a real treat in itself; they usually drank their tea black. For two shillings (around 20c today), they could buy a loaf of bread and enough hot chips to make chip sandwiches for them all. A family feast. Most nights, dinner was stew made from cheap cuts of meat that were only edible once they had been cooked slowly over the fire or in the camp oven.