This week, we learned 35-year-old tennis champion Serena Williams is most probably pregnant.
With this revelation – that arrived with a SnapChat of the tennis star in a yellow leotard and the caption "20 weeks" – we all had a moment of being happy for her; thinking all the baby thoughts; wondering if it's a boy or a girl…
And then there was this:
If Williams is currently 20 weeks pregnant…. that means she was ALSO pregnant when she beat her sister Venus Williams to win The Australian Open in January.
Twitter had a meltdown.
Serena Williams won the Grand slam while pregnant so tell me more about women being the weaker vessel. pic.twitter.com/WLJOHbuq5L

— Prop (@prophiphop) April 19, 2017
Serena Williams was pregnant when she won the Australian Open. Yet I can't even stand to wash the dishes immediately after a heavy meal ????

— Hannah Cariño (@hannahkatrina) April 21, 2017
Serena Williams won the #AusOpen without dropping a single set, literally carrying an extra body inside her. The undisputed GOAT. #tennis

— Edwin Smith (@edwin_smith1) April 20, 2017
But… WAIT.
Quietly, from the shadows, we began to hear whispers…
Williams' pregnancy might have helped her performance rather than hindered it.
News sites started referencing a 2003 study published in the Seton Hall Journal of Sports Law that found pregnancy increases the number of red blood cells in the body, which boosts oxygen delivery to muscles and enhances athletic performance.
"The effects of pregnancy parallel the effects of blood doping," the report reads. "The benefits of pregnancy include an increase in oxygen-rich blood, which in turn helps boost muscle capacity by 30 per cent."
We decided to speak to our own expert to find out… Just what affect did Williams' pregnancy have on her athletic performance?
(Real talk: the fact Williams was performing athletically at all is remarkable. If I were pregnant, all I'd do is use it as an excuse for eating two dinners every night and brownies for breakfast.)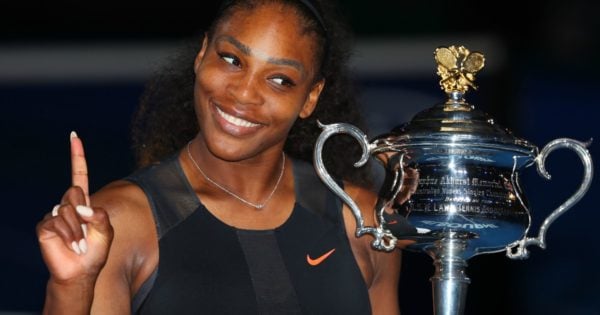 Melbourne obstetrician, gynaecologist and IVF specialist, Dr Joseph Sgroi, told Mamamia it is likely Williams' pregnancy had a positive impact on her performance. And it's not only because of red blood cells.
"A woman's aerobic fitness stays the same or improves slightly during pregnancy if she continues to exercise as her maternal symptoms permit," Dr Sgroi said.
"This may be in part due to the fact that heart (cardiac) output increases by around 50 per cent."
Serena Williams schools us in how not to apologise for your work. Post continues below.

Dr Sgroi also said the production of glucose - the body's principle energy source - increases during pregnancy.
"The two combined might make it that much easier to chase the ball down and endure a long game," he said.
How incredible. She and her baby-to-be won an international tennis tournament together.
They're already kicking ass, and she or he isn't even born yet.
MIND BLOWN.