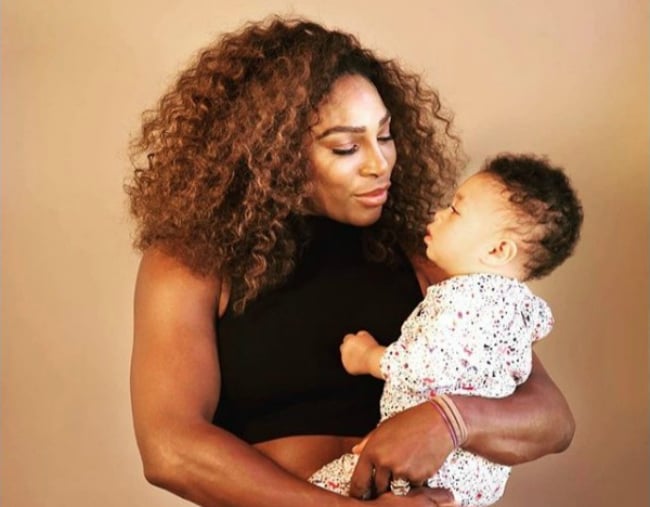 Serena Williams' daughter Olympia threw up on her during a flight, proof that parenting is the greatest equaliser.
The tennis legend shared the story on Twitter and called for other parents to share their (hilarious) parenting stories using the hashtag #ThisMama, and Twitter users did not disappoint.
Kids humble us. The other day on a flight home Olympia insisted on running up and down the aisle and when I finally got her to sit still, she threw up all over me. #ThisMama would love to hear your stories of motherhood.. even ones like this! Share and tag them with #ThisMama. pic.twitter.com/9N5duB2M3t

— Serena Williams (@serenawilliams) August 26, 2018
Parents responded with a bunch of funny, ridiculous, terrifying and often gross stories.
Right off the bat, we were gifted this:
My daughter loved to take everything out of the pantry & put it all back in. #ThisMama came back in the room to her looking like this & the 3 minutes it took me to figure out she'd gotten into the red food coloring & wasn't bleeding profusely were the longest 3 minutes of my life pic.twitter.com/eRvmEGlQFD

— Kaz Weida (@kazweida) August 26, 2018
And these hilarious stories:
Then there was the time I was interviewed by the police on suspicion of being a drug dealer, because my six year old had taken some homeopathic white powder 'wraps' to school & given to his friends. When asked what they were he said "people come to our house & buy them" #thismama

— Sarah Ockwell-Smith (@TheBabyExpert) August 26, 2018
I took my kids to work with me every day. My husband and I would discuss work at home. One day my oldest walked around the office and told one of my employees "my mommy is going to fire you". From that day on we talked in code words. #ThisMama

— josie (@jodelblue) August 26, 2018
@ThisMama The deal was: I breastfed one night, Dad gave the bottle of breastmilk the next. One night, when I checked on them, Dad had fallen asleep while feeding her and the baby had fallen from his arms and rolled under the bed where #ThisMama found her sleeping soundly

— Monique Clesca (@moniclesca) August 26, 2018
Absolutely love the #ThisMama conversation, because the memories do not go away. I asked my child (under the age of 4) why did you use that naughty language – with utter embarrassment at the profanity and zeal. With no expression she replied, "I got all the words from you."

— Aimee A'Laine (@newjoynjourney) August 26, 2018
At my mother in law's funeral my daughter didn't cry until she saw her father cry- he said I know baby we are all gonna miss her-my daughter wailed with full on tears- "Who gone cook the greens?!"????????#everbodyfelloutlaughing #ThisMama

— Candace Walker (@candaceconvo) August 27, 2018
3 years ago I was reading 'The Little Engine That Could' book to my 4 year old and he decided my head made the perfect mountain to put his motorized train on. It literally took 0.003 seconds to get jammed in my hair. On the plus side, it helped remove some gray hair.#ThisMama pic.twitter.com/Z1dPLxgwD3

— Jeanette Becker (@jshu22) August 27, 2018
We've lumped all the poo and vomit stories together, so maybe skip this part if you're eating?
I'm no medal winning tennis player but if catching vomit in two hands was a sport, I'd win gold every time #ThisMama

— Claire Menlove (@clairemenlove) August 27, 2018
When my son was 5-1/2, we were at a play, and just as intermission ended he told me he didn't feel good. As the lights went down, he leaned over and threw up in my lap. Stunned, I told him we had to leave and he said, "Why?" #ThisMama

— Betsy A. (@bestbets23) August 26, 2018
One of my sons used to 'paint' with his own poo. He would wake from a nap, totally silent, remove his diaper & finger paint all over his toys and cover the wheels of his toy cars in poo, then make poo tracks all over his cream walls. Be thankful for a little vomit ???? #thismama

— Sarah Ockwell-Smith (@TheBabyExpert) August 26, 2018
When my daughter was 3 she successfully hid a turd in her hamper. In a groggy fog, I did laundry and said turd got washed and dried. The inside of my dryer looked like a Jackson Pollock painting. #thismama

— Mar (@ohwowidontknow) August 27, 2018
#ThisMama had a baby throw up peas and rice all over me and the plane in mid flight. It was so bad it had to be taken out of service to be cleaned. Same child was a lap child and pooped before take off. We sat on the runway for an hour as poop leaked out of his diaper all over me

— kim guay (@guay_kim) August 26, 2018
I once breastfed my baby while leading a graduate student meeting & she then promptly had a poop-explosion that even soaked MY pants. #ThisMama #parenthood #MultitaskingLikeABoss

— Hillary Melchiors PhD, MPH, LCCE, CD(DONA) (@HillaryMelch) August 26, 2018
And finally, the sweetest thing you'll see today. OUR HEARTS:
His first night in my home he said" I won't be staying long, no one ever keeps me, I'm unloveable" he was 6. #ThisMama knew she had to change his world. 3 years later he changed mine. ❤️❤️ pic.twitter.com/i5TV0XjJIR

— Oh- Twit (@OOOhTwit) August 27, 2018