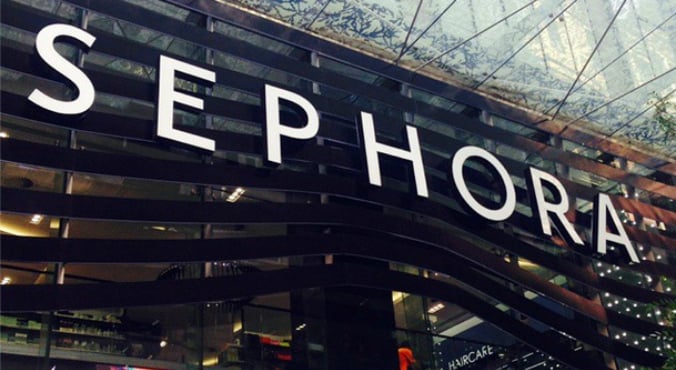 Image: Supplied.
This is it Australia – the news you've all been waiting for: Sephora has finally launched an Australian online store.
No longer will you have to enviously scroll through Instagram looking at all the Sydney Sephora hauls. Nor will you have to spend all your money hitchhiking to Melbourne for the store opening at the end of the year – you can now shop some of the best beauty products in the comfort of your own bed and pajamas.
"Since Sephora opened their first Australian store in December 2014, launching an online platform was absolutely something we had planned for. We wanted to ensure that all Australian's had access to the Sephora Australia offerings no matter where you lived," Sephora Australia's Country Manager, Libby Amelia told The Glow exclusively.
5 things you need to know about Sephora's online store.
1. Pricing
The pricing will be in Australian dollars and all items available online and instore will be the same price.
2. Shipping
There will be free shipping nationally for orders over $55 but a small shipping fee will be incurred for orders under that amount. (Post continues after video.)
3. Choice
Although not everything in-store will be available online at first, around 131 brands will be available to purchase from Sephora.com.au including many of the exclusive brand favourites.
You'll able to get your hands on the usual suspects Anastasia Beverley Hills, Antonym, Becca, Bite, Cover FX, Formula X, IT Cosmetics, Kat Von D, Marc Jacobs, Nudestix, SEPHORA Collection, Ole Henriksen, Per-Fekt and Tarte. It's the stuff of dreams, right?
4. Online benefits
Not only can you browse without getting out of bed, shopping online at Sephora will have a whole host of benefits including exclusives on brands like Sleek Makeup, EMK and Erno Laszlo.
And did we mention the free samples?
One of the best things about shopping at Sephora stores are the free samples provided with every purchase and this will be replicated online (cha-ching).
"At checkout consumers will be given the option to select from available samples, which will be sent along with your order," explains Amelia.