Send an email to Senator Brian Burston and you'll receive an automatic reply that concludes, "Thank you once again for taking the time to contact me. Your comments are important to me."
But as Sydney woman Chloe Nour discovered today, that's not exactly true.
This afternoon she sent the Pauline Hanson's One Nation Senator an email "imploring him to block the lifetime ban on refugees bill", and within three minutes she had a response.
Just two words:
"Go away."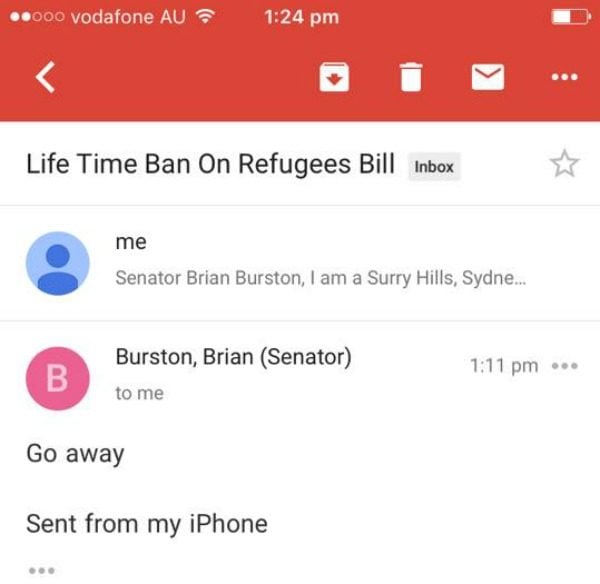 Senator Brian Burston's succinct response to Chloe Nour's email. Image: supplied.
"I was so shocked", the 25-year-old told Mamamia after receiving the reply.
"I couldn't believe a grown man and public servant, who is being paid with my tax dollar to represent my best interests in parliament, would have the audacity to treat a citizen with such disregard and so childishly. A man who has been elected by the people, telling the people to 'go away' is the exact opposite of democracy."
The photographer felt compelled to reach out to NSW senators after Trump's victory in the US election "illuminated how underlying racist, sexist, homophobic, and ill-informed ideologies can quickly gain power and become policy".
For her, the government's proposed lifetime ban on refugees - which would prevent refugees who arrived by boat from ever entering the country - is among them.
"Seeking asylum is a basic human right, and this proposed bill is a deliberately cruel and unusual measure added to already cruel and obscene policies enforced by the Australian government," she said.