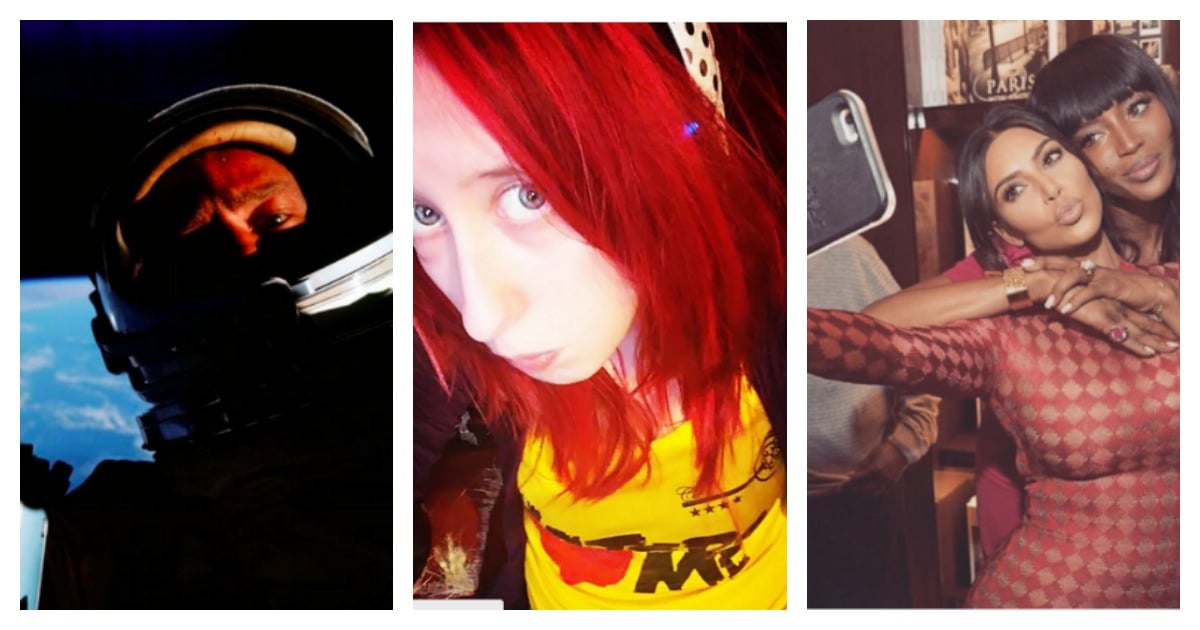 I remember as a child, I loved photos.
Not so much having my picture taken, but watching people pose for their own.
One memory is clear as daylight: perched at the kitchen table, looking out onto our sunny veranda as Dad took a picture of Mum with our newborn baby brother.
I squinted into the sun at my beautiful mother, smiling her megawatt smile towards the camera. Dad was smiling too as he clicked the camera, and that was that. One shot. He was happy, she was happy, and it would be weeks before the roll of film was developed and anyone could, or would, feel otherwise.
In 2016, Golden Age of The Selfie – have we lost the art of posing for a picture?
Self-taken photographic portraits have been around since the invention of the camera.
Humans have always been fascinated with capturing the world around them, which inevitably included themselves. One of my favourites surely must be Buzz Aldrin's space selfie snapped during the 1966 Gemini 12 Mission, pictured above.
It was so innocent, so fumbled, so gleeful – it seemed to say, look at me! I'm in space!
But it was what it didn't say that was more significant: unlike the modern selfie, it was not vainglorious. It didn't say, look at me, I'm a handsome chap! Or, look at me, I'm in space and you're not!
The narcissistic 'selfie' as we know it today, is said to have crept into our common vernacular around 2013.
I personally think my first ever selfie, however, came much earlier than that – circa 2003. It was Nokia camera phone, in high school, for Myspace. Probably in my school uniform. Probably pouting. Probably listening to Blink 182.
Quora agrees on Myspace as the first milestone for selfies.
"From 2006 to 2009, the term "MySpace pic" described an amateurish, flash-blinded self-portrait, often taken in front of a bathroom mirror. Self-portraits shot with cell phones, or "selfies"—cheap-looking, evoking the MySpace era—became a sign of bad taste."
Initially, taking a selfie was a strange experience.
Grappling with a camera phone, backwards, whilst trying to find your best angle – odd, to say the least.
Little wonder so many MySpace era selfies ended up taken from that high-up angle, looking down, creating an entire generation of forehead-focused self portraits.
But even then, the traditional form of portraiture endured. At the time, digital cameras had gone from being a luxury item to an easily-affordable accessory, and were toted everywhere from school dances to road trips, end-of-year exams to part time jobs at McDonalds.
(In fact, one of my enduring memories from my teenage years was constantly trying to squeeze my chunky digital camera into the tiny, armpit-dwelling handbag that was all the rage circa 2002….)
Together, girls would cluster as a group, arms on hips, boobs thrust forward, with a manically enthusiastic smile. In between shots, hair would be fluffed and flicked, tops tugged down to appropriate cleavage reveal, lipgloss applied, and teeth licked. It wasn't a process that was taught, necessarily – you just knew what to do between shots. You instinctively knew how to prep, and more importantly, how to pose.