1. Excuse us, but Hollywood's juiciest 'love square' just got juicier.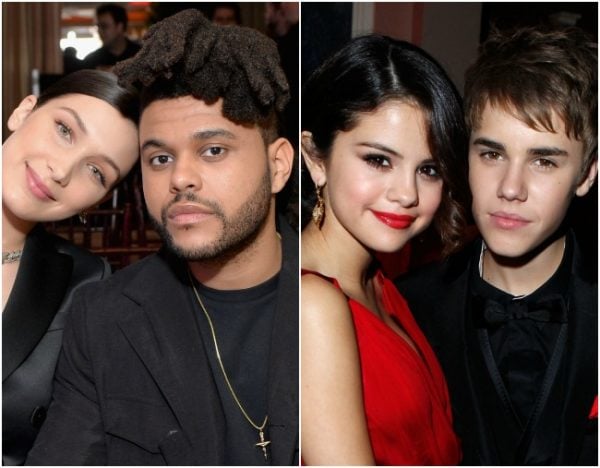 Let's begin with a saucy romantic tabloid fairytale, shall we?
There once was a couple named Jelena. They were one part Christian tattooed pop star, one part angelic singing sweet heart. Their romance lasted for approximately two and a half troll-filled years, before they parted ways in 2014.
Anyway, for Justin Bieber, breaking up meant dating oh, maybe just every model under the sun.
For Selena Gomez, it meant falling in love with the world's second most famous singer, The Weeknd.
Ah yes, let's debrief about the third player in this love square, The Weeknd.
The Weeknd was dating Victoria's Secret supermodel Bella Hadid (she's love square person number four), and had been since 2015. They had a puppy together named Hendrix together, actually. They were cute. Dated for a year and a half. Walked many a red carpet arm-in-arm. Whatever.
Then they broke up in late 2016. Within weeks, though, The Weeknd and Selena Gomez were papped making out next to a big old garbage disposal bin (no, really). They were, from that point, an official item. Bella Hadid wasn't exactly thrilled by this and posted a photo of her rude finger to Insta because 2017. Justin Bieber was equally peeved and told a magazine "that shit's whack," because, well, 2017.
By this October, as far as the world knew, The Weeknd and Selena Gomez were dating, and all was going fine, until photos of Jelena on a breakfast date, then riding their bikes together emerged. Then there were leaked videos of them professing their love to each other and woah woah woah sorry what? JELENA ARE BACK ON.
JELENA ARE BACK O-N.
Selena and The Weeknd had quietly split after 10 months of dating, apparently. But that's old news. Because Jelena are back ON.
And the reason we're telling you this very convoluted tale right now? Because this love square just got even juicier.
Yes, readers, YES. Not only are Jelena are "thing" again, but The Weeknd was just photographed leaving ex Bella Hadid's New York City apartment overnight after spending, ahem, "several hours there". So it very much appears, people, that they're back on too.
And so, the square of life celebrity love drama is complete :')
2. The 2017 Victoria's Secret Fashion Show is quickly turning out to be a goddamn disaster.
Forget a parade of underwear, this year's Victoria's Secret Fashion Show shall henceforth be known as a Logistical Nightmare.
The annual event is due to take place in Shanghai in just two weeks but sources have told Page Six that the poor people whose job it is to coordinate media coverage are 'on the verge of nervous breakdowns'.
The problem? Strict Chinese regulation. Fashion bloggers aren't getting visas, TV stations are being told they can't shoot outside the arena and the poor Victoria's Secret PR team can't even send out press releases without having them pre-approved by government officials.